Hodl or Spendl and the difference between Bitcoin and Lightning.
Hodl or Spendl and the question of whether to hold or spend Bitcoin and what the difference between Bitcoin and Lightning is all about.
In this article we explain how the term hodl originated. What the difference between Bitcoin and Lightning has to do with it, why Hodl and Spendl don't have to be a contradiction, and how you can help make sure we don't have to pay with digital Euros or PayPal Stablecoins in a few years.
Video: Hodl or Spendl and the Question of Whether to Hold or Spend Bitcoin
How did the name Hodl come into being?
I'm hodling was the title of a blog post on the Bitcoin Forum in December 2013.
The Bitcoiner wanted to write a post about why he holds Bitcoin and already had slight losses in his native language due to increased whisky consumption and mistyped and wrote Hodl instead of Hold.
Background: As already mentioned, this blog entry was written at the end of 2013. Earlier that year, the bitcoin price was $1,100 and in December 2013, at the time of the blog post, the bitcoin price plummeted 40% in 24 hours.
From the origin of the term Hodl, it can be deduced that in the event of a short-term and sharp drop in the price, you should keep your nerves and not sell your Bitcoins in a panic.
However, it also does not mean that you have to keep your Bitcoins forever, but that you can also Spendl, i.e. spend them.
Spendl – pay with Bitcoin
Spendl is associated with spending, that is, paying with Bitcoin. So don't exchange the Bitcoin back into Euros and then pay, but pay directly with your Bitcoin in stores and online stores.
Here we are already at a religious war among Bitcoiners. There are controversial discussions that you should never spend your Bitcoin and the other side that promotes that you should spend Bitcoin as well.
But what's wrong with doing both?
Let's take a look at the old Fiat world. One has a regular income and puts part of it into a savings account. You live in fiat.
For daily purchases, people go to the ATM and withdraw cash. You exchange your bank balance for cash to spend.
Some of the euros are saved, some are spent.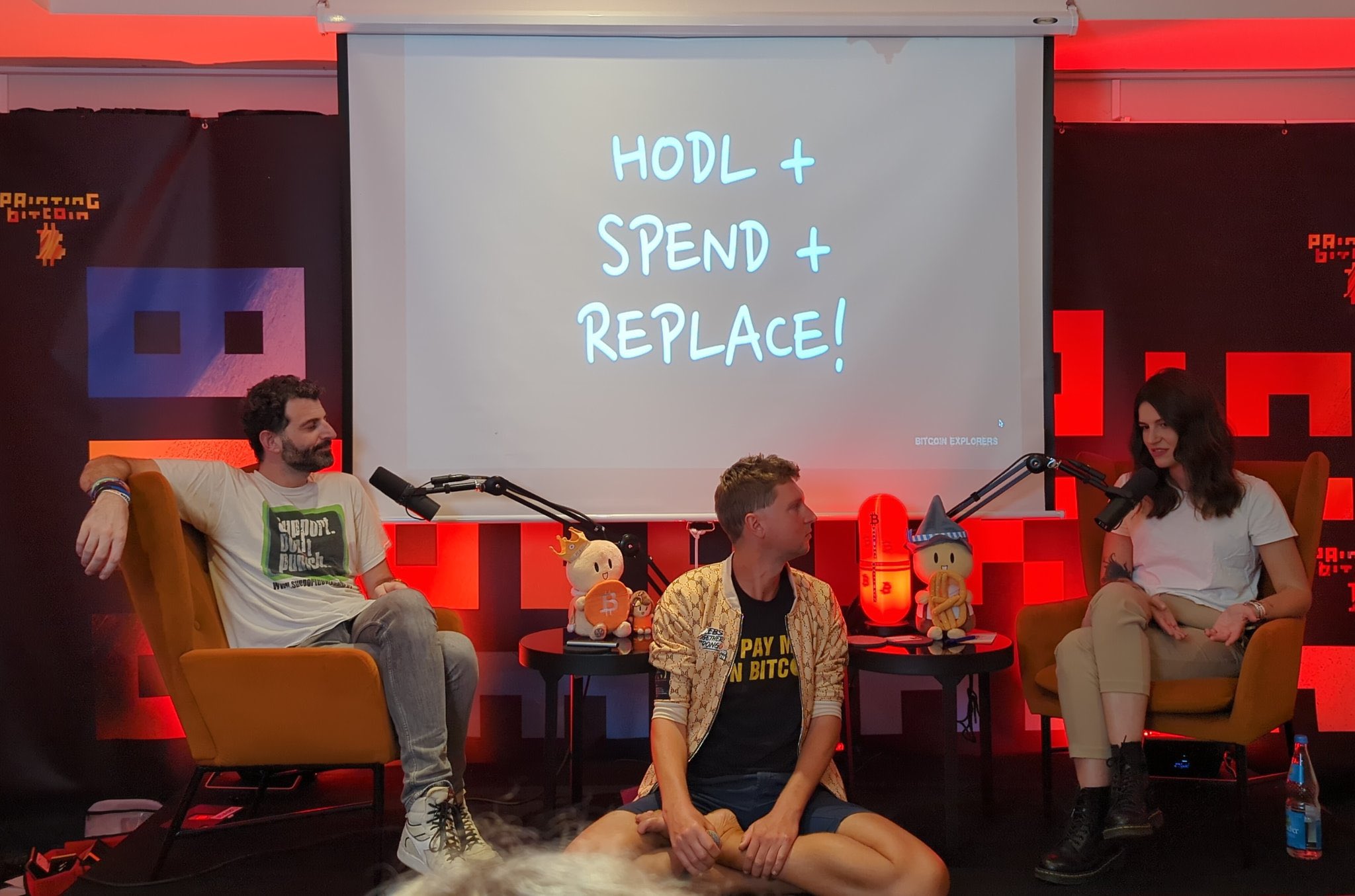 Source: Bitcoin Block at Bitcoin Hotel in Plochingen August 2023.
Hodl Wallet and Spendl Wallet
With Bitcoin, I also have a Hodl Wallet where I store my Bitcoin that I save for the long term. This Hodl wallet is a Bitcoin hardware wallet such as the Bitbox or from Ledger or Trezor.
For this hodl wallet I can buy bitcoins regularly via a bitcoin savings plan. For example, every week or every month a fixed amount, as many Bitcoin brokers and exchanges already offer.
If there's any fiat left at the end of the month, I'll buy some bitcoin to go with it.
Besides this Hodl Bitcoin hardware wallet, I also have a Spendl wallet. This is my Lightning Wallet on my smartphone. I have a few sats on there that I can spend there. Kind of like my cash in my wallet.
I use the Sats on the Lightning wallet whenever I have the option to pay with Bitcoin or Lightning.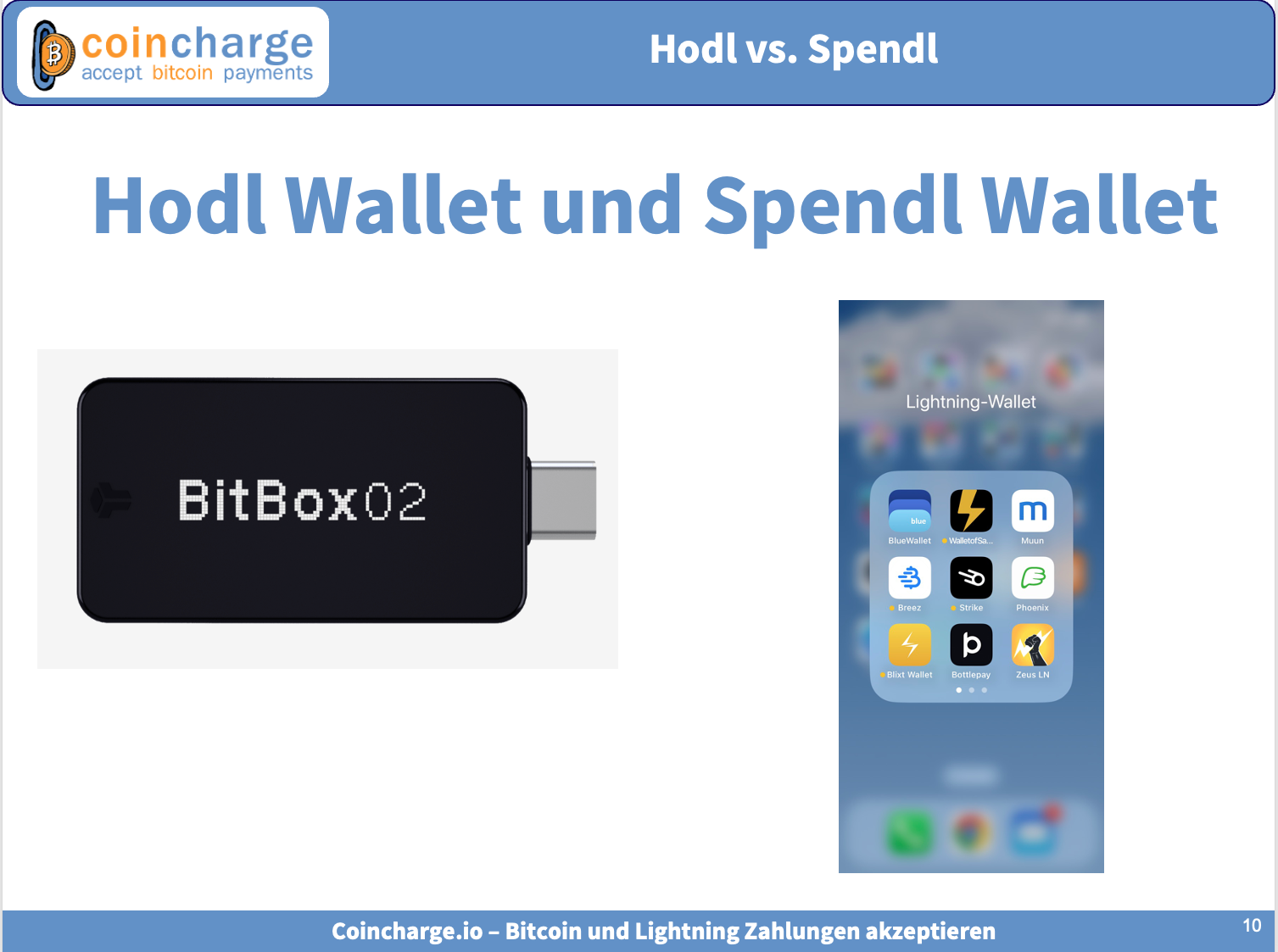 In the context of Hodl and Spendl, what is the difference between Bitcoin and Ligtning?
Attentive readers of this site know, of course, that once there is Bitcoin on the Blockchain and Bitcoin on the Lightning network.
Thus, Bitcoin on the Blockchain is the perfect store of value and ideal for hodln.
Bitcoin on the Lightning network, so Lightning, is the ideal means of payment and thus suitable for Spendln.
Therefore, we can state: Save in Bitcoin – Pay with Lightning
Hodl and Spendl are two sides of the same coin.
I'm transferring a few sats from my Hodl wallet to my Lightning Spendl wallet to pay with. However, so that I don't have less Bitcoin on my Hodl Wallet, I repurchase the spent amount.
I am familiar with buying Bitcoins and know how to proceed.
A quick example. Your favorite cafe or kebab store accepts Bitcoin and you are hungry and want to buy a kebab for €10.
You can now use a €10 bill from your wallet. But you can also exchange the €10,- into Bitcoin beforehand and pay the kebab with Bitcoin.
Of your saved Bitcoins, you haven't spent a single Satoshi. You had to eat something anyway and wanted to spend €10. But you made sure that the kebab seller is now the proud owner of Bitcoin. You have contributed to Bitcoin being used as well. Bitcoin is therefore a product, namely a means of payment.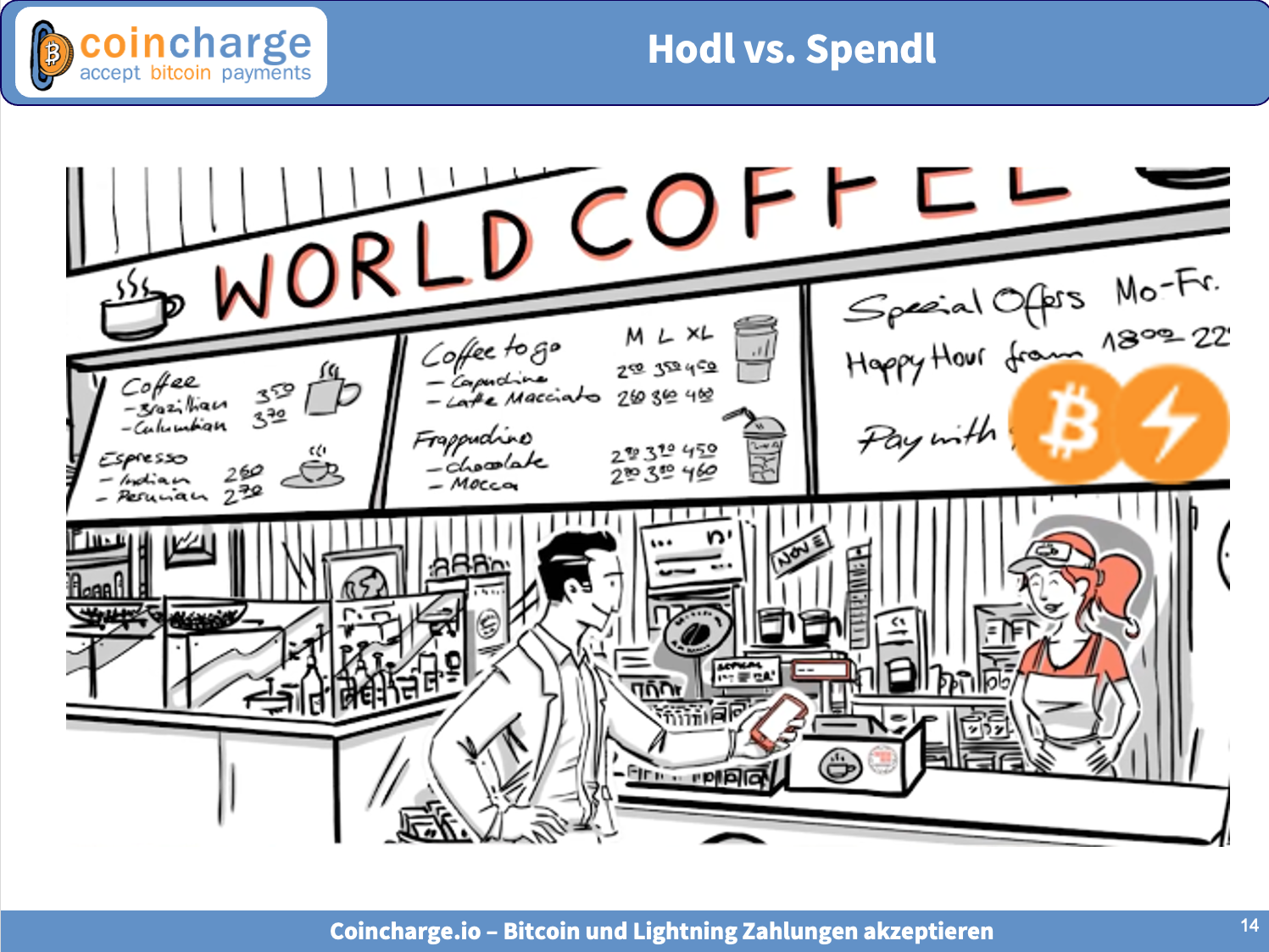 To all the critics who call Bitcoin "useless", you can prove that you can pay with it.
Hodler often points out that if you pay for something with Bitcoin today, it could be the most expensive kebab of your life in a few years.
You should also not pay for the kebab with the bitcoin you have saved, but exchange the euros you "have" to spend anyway into sats beforehand and then pay with sats.
So you don't have one less Satoshi than before, but you have helped make Bitcoin work as a product.
Paying with Bitcoin is like buying Bitcoin for someone else.
At Coincharge we help merchants accept bitcoin payments and at Coinpages we have a good overview of which merchants accept bitcoin payments.
Large online stores like Amazon or retail chains do not yet accept bitcoin payments.
The merchants who accept Bitcoin payments are private Bitcoin believers and Bitcoiners like you and me. Mostly in the legal form of a sole proprietor or as a small medium-sized enterprise.
The Bitcoin are either bought privately by the owner or left in the company.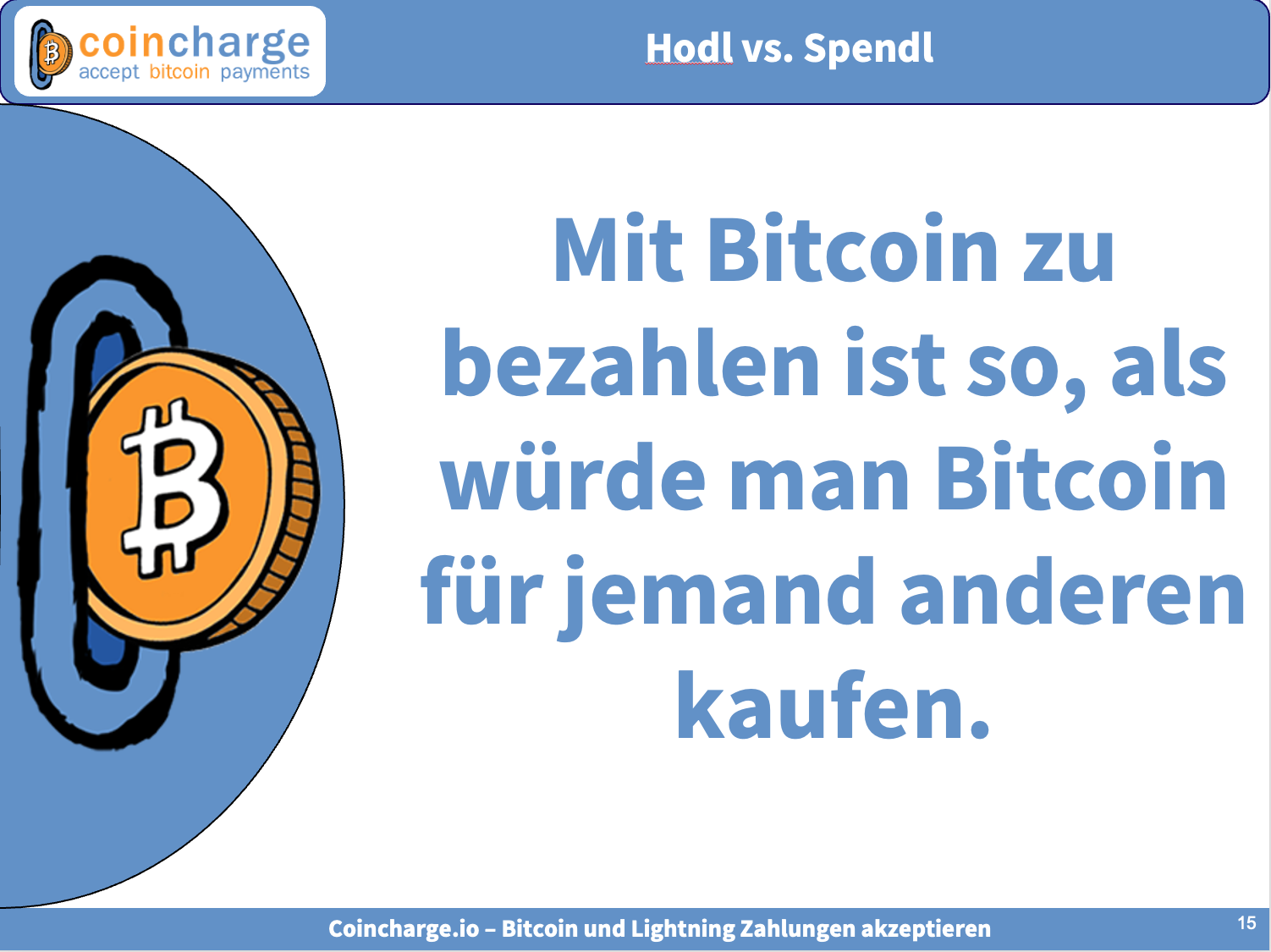 It even goes so far that these merchants want to pay their employees and suppliers with Bitcoin themselves, in order to push the spread of Bitcoin.
There is virtually no interest in exchanging the Bitcoins received for euros.
So when you pay with Bitcoin in a store, it's like buying Bitcoin for someone else.
If we want Bitcoin to work as a product, that is, as a means of payment, then the chicken-and-egg problem must be solved.
As with the question of whether the chicken or the egg came first, the question arises:
"Do we need merchants accepting bitcoin payments first, or payers willing to pay with bitcoin?"
On the one hand, you need a lot of payers willing to pay with Bitcoin, so that merchants in turn are willing to offer Bitcoin as a means of payment.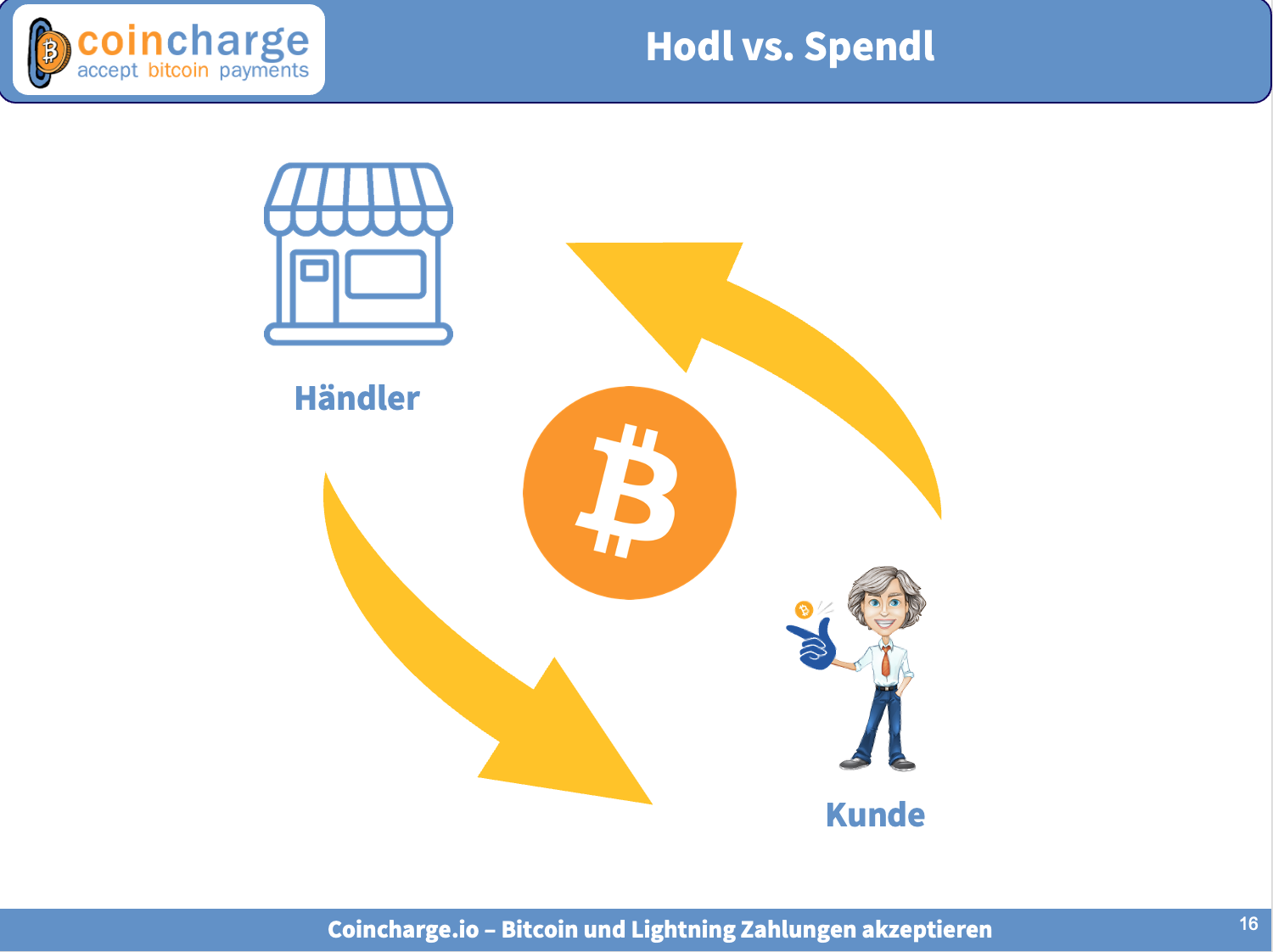 Likewise, it takes many merchants accepting payments with Bitcoin for their customers to become aware of Bitcoin, to realize that Bitcoin is also a means of payment.
These customers start to get interested in Bitcoin, ask for Bitcoin and hodln and spendln Bitcoin.
If we Bitcoiners don't start using Bitcoin as well, there is a risk that other cryptos will displace Bitcoin as a payment method.
PayPal Stablecoin & Digital Euro (CBDC)
PayPal is already in the starting blocks with its own PayPal Stablecoin, which has just been launched in the USA. PayPal has more than 400 million users who will be able to pay with a PayPal Stablecoin in the near future. PayPal also has thousands of merchants that could accept a PayPal Stablecoin right away. A brilliant move by PayPal, which has already solved the chicken-and-egg problem.
Then, in about 4 years, we will have a digital euro that is legal tender. Exactly what this digital euro will look like remains to be seen over the next few years. But as a legal tender, all merchants and online stores in Europe will be forced to accept the digital euro as a means of payment. When the digital euro is accepted by all merchants in Europe, it can be assumed that users will also use the digital euro.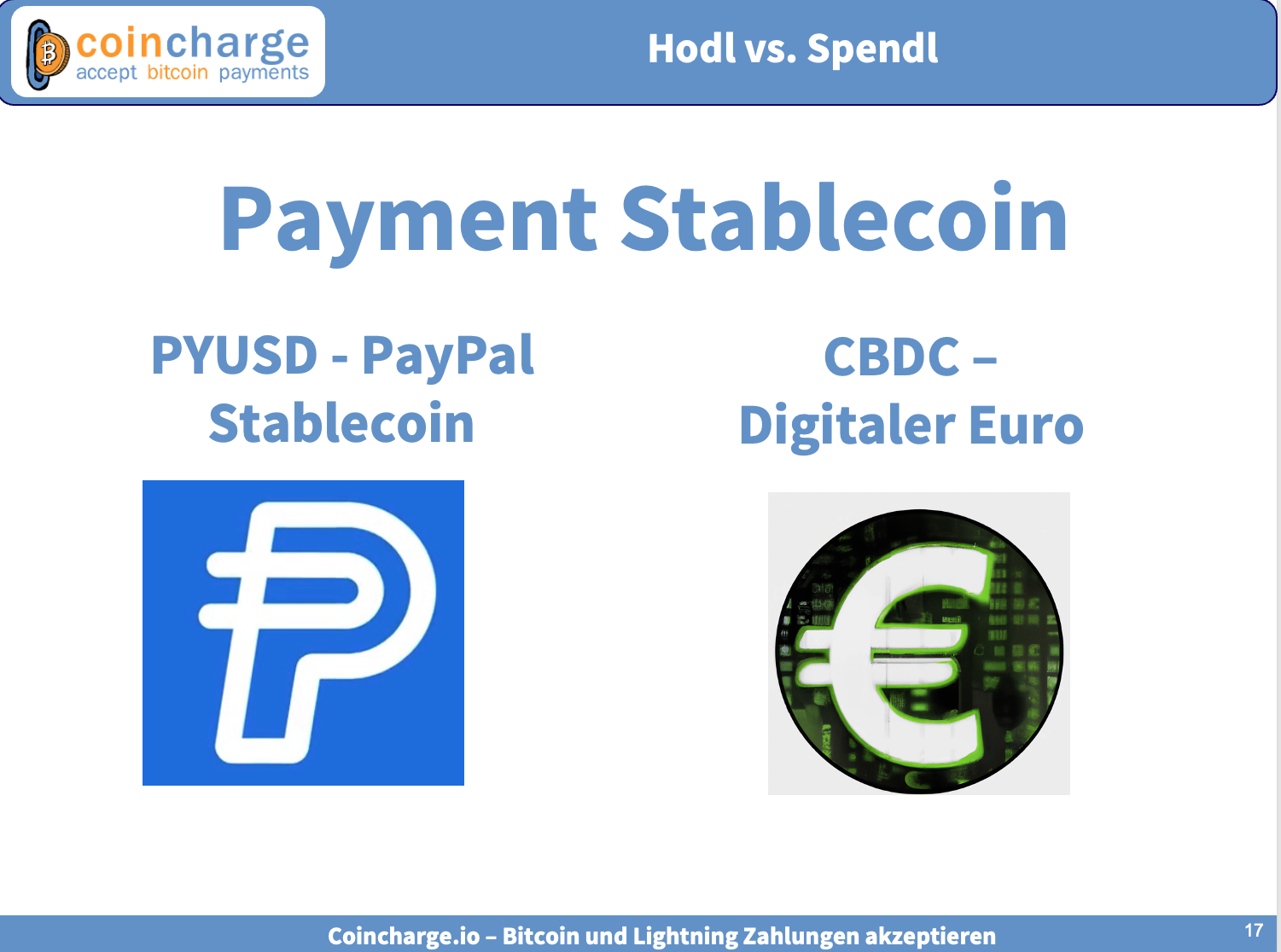 Bitcoin over the Lightning network is undoubtedly the better payment method, but PayPal and the digital euro have the potential to displace Bitcoin.
As a result, people would have to exchange their Bitcoins for PayPal Stablecoins or the digital euro in order to pay with them. Can this be in our best interest?
Stores that accept Bitcoin and Lightning payments
With Coinpages we operate a directory of all stores and online stores in German-speaking countries that accept Bitcoin and Lightning as a means of payment.
In conversations with some of the stores listed there, we have had to hear again and again recently that bitcoin payments are accepted, but hardly used. They then removed Bitcoin as a payment method again and no longer offer it.
I don't want to have to exchange my saved Bitcoins for Euros in a few years, but would like a wide selection of stores that accept Bitcoin payments.
After all, the more businesses accept Bitcoin payments, the more people will learn that Bitcoin exists and that it can be put to good use. These people will become interested in Bitcoin and will start to hodln Bitcoin and also to spendln, which will increase the demand for Bitcoin and will also affect the Bitcoin price.
To all Bitcoiners out there, I would like to appeal to you to install a Bitcoin Lightning Wallet on your smartphone in addition to hodln Bitcoins, put a few sats on it and pay with it when the opportunity presents itself.
You can also actively help more stores and online stores accept Bitcoin and Lightning payments.
If you run a business or online store yourself, offer Bitcoin and Lightning as payment methods.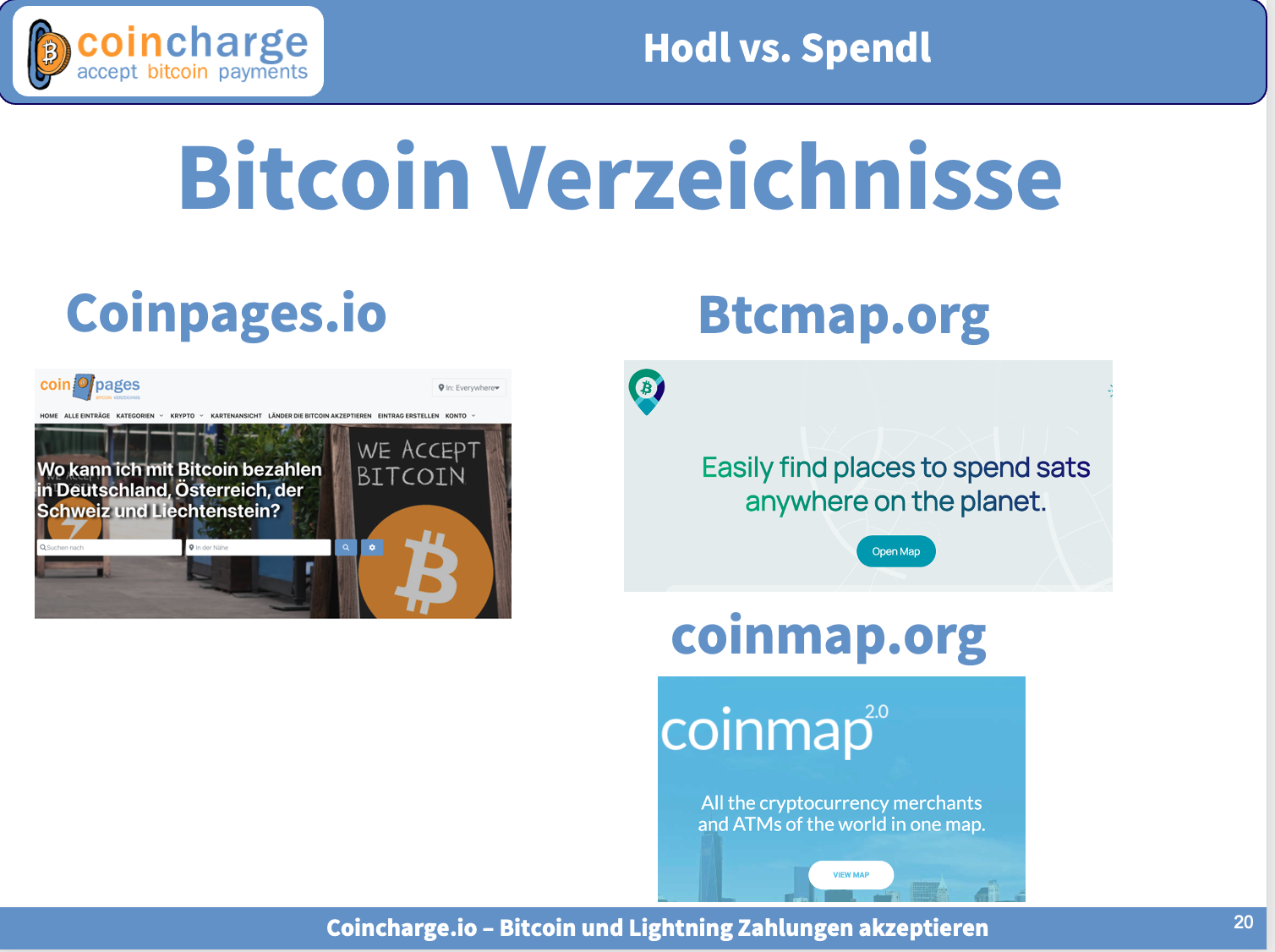 Share Bitcoin Business
If you know of a business that accepts Bitcoin or Lightning, you can let us know and we will create a listing. You can find the link to inform us here below and also again in the description:
https://coinpages.io/bitcoin-geschaeft-mitteilen/
Then, if you send us a photo of the sign that says the store can be paid for with bitcoin, we'll reward that with 50,000 sats.
If you then make a video of how you pay in the store with Bitcoin and we publish that video on our YouTube channel, we'll reward that again with 50,000 sats.
So we want to help that many Bitcoiners learn where to pay with Bitcoin and hope that many Bitcoiners will also use this opportunity and support these businesses.
Hodl Bitcoin – Spendl Sats … and Replace
We hope we were able to convey in this post that it's not "Either Hodl or Spendl", but "Hodl Bitcoin – Spendl Sats and Replace".
That way, we all benefit. The more merchants accept Bitcoin, the more people become aware of Bitcoin. Are starting to get interested in bitcoin and are starting to save and hopefully spend with bitcoin.
When are you going to start paying with Bitcoin or Lightning? If you haven't already, create a Lightning Wallet now. Put a few sats on it and next time you shop, check if you'd rather buy from a merchant that accepts Bitcoin and Lightning as payment.