ZAP Wallet without own Lightning Node
After downloading and installing ZAP Wallet from the Apple or Android App Store, you will be prompted to securely write down the recovery key, also called passphrase or seed.
This is a so-called non-custodial wallet and here you retain full control over your funds.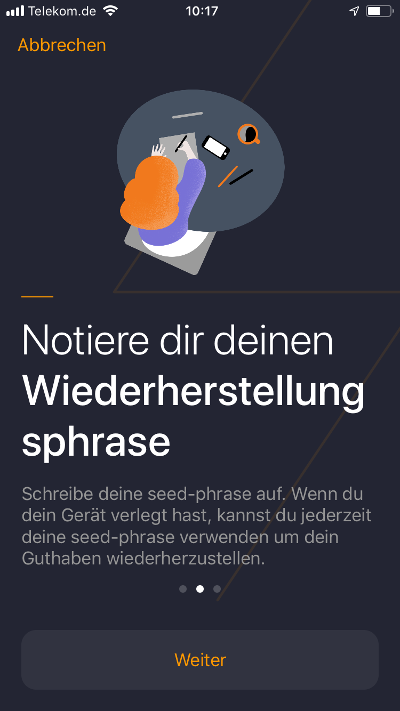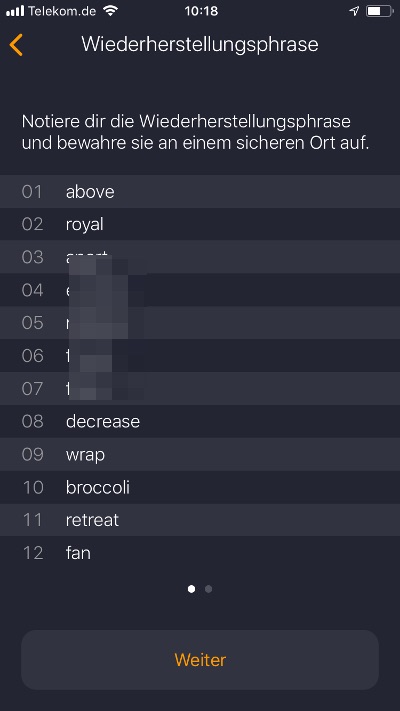 This recovery phrase, also called a seed, looks something like this:
After you have noted and confirmed your phrase, you will be prompted to top up your wallet.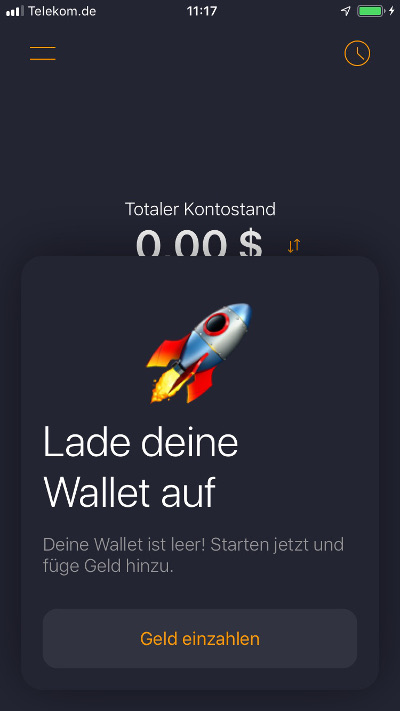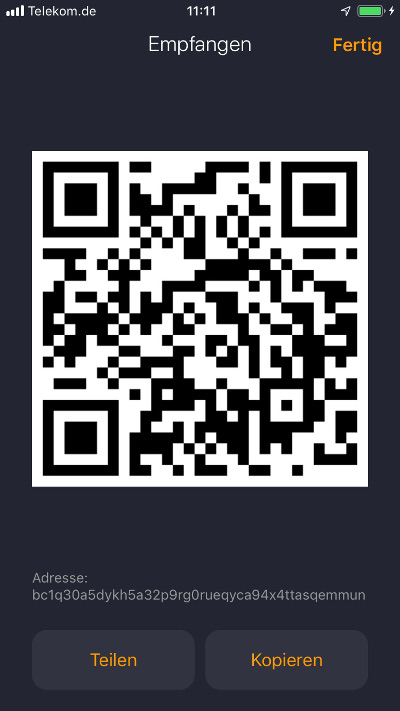 After you click on deposit money, you will be shown a QR code.
If you click on Share, then you can forward the QR code or you can copy the Bitcoin address to the clipboard via Copy.
Care should be taken to ensure that it is a bc1 address (Bech32), which may not yet be supported by other Bitcoin wallets.
A deposit of 100,000 satoshi was made for testing purposes.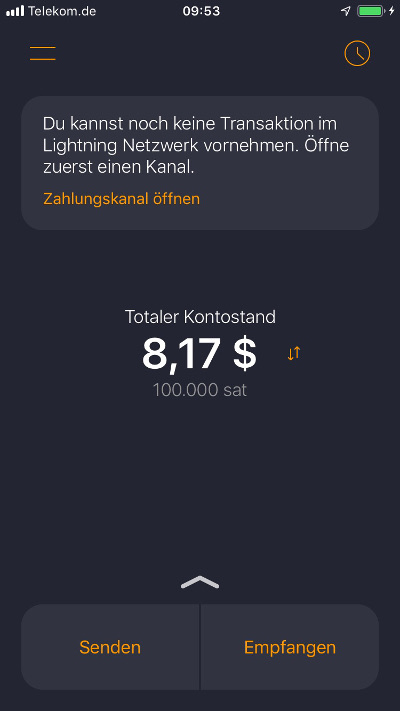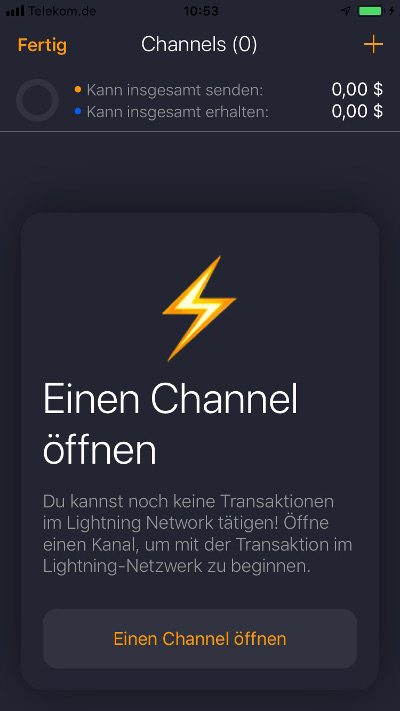 Now we have Lightning credits, but we still need to become a part of the Lightning network. Up to now, you have only been standing in front of it.
To become a part of the Lightning network, we need to connect to other participants. Accordingly, we connect to other nodes (peer) and additionally establish a channel.
Because without such a channel you can neither receive payments nor send payments.
To do this, click on "Open payment channel".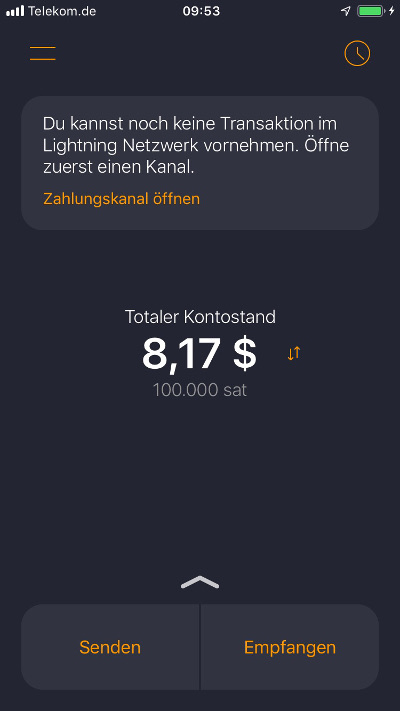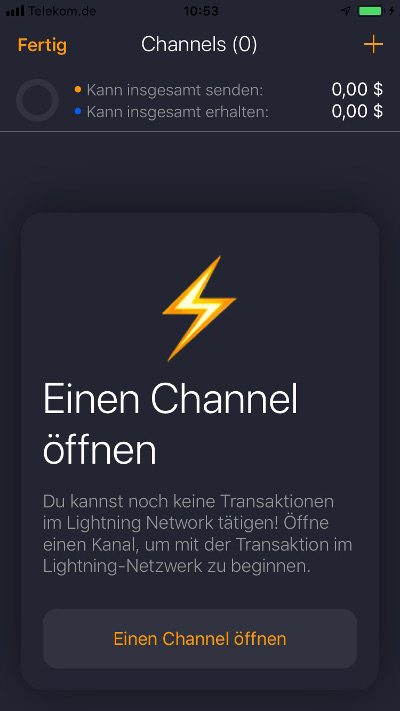 If you click on "Open a channel", you have the possibility to connect to another peer.
The other node provides the address of its Lightning Node with its address either as a string or via QR code.
You can open a connection with the Coincharge Lightning Node. Enter the peer address:
0318ac9faa9629e7da08819bc8fe0dd2ae3044d69b1b2283a63479acffeb968483@172.81.178.22:9735
You can use your smartphone's camera to scan the QR code of another node or select one of the suggested peers.
Some peers will be suggested to you, which have a corresponding liquidity. You can buy Lightning Liquidity from these sellers. For more information we recommend the article Lightning Liquidity
ZAP Wallet makes this quite convenient. It offers the possibility that you can use your Bitcoin balance on the ZAP Wallet (here $8.17 in 100,000 sat) to exchange the corresponding liquidity with these Lightning providers with one click.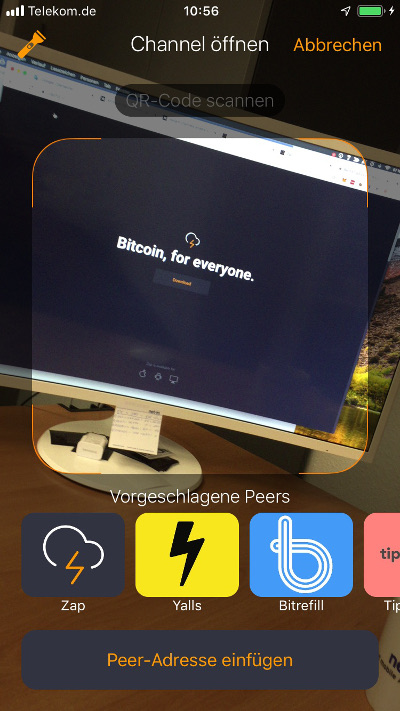 We select ZAP accordingly from the proposed peers and the adjacent window appears.
We select ZAP accordingly from the proposed peers and the adjacent window appears.
Of this $6.12, $5.79 will be used for the channel. The difference of 33 cents is the transaction fees for writing to the blockchain. This is because opening a channel is an on-chain transaction on the blockchain. If the channel is closed again then this is also recorded on the blockchain and incurs transaction fees once again.
All Lightning transactions made in the meantime are off-chain transactions and (almost) free of charge.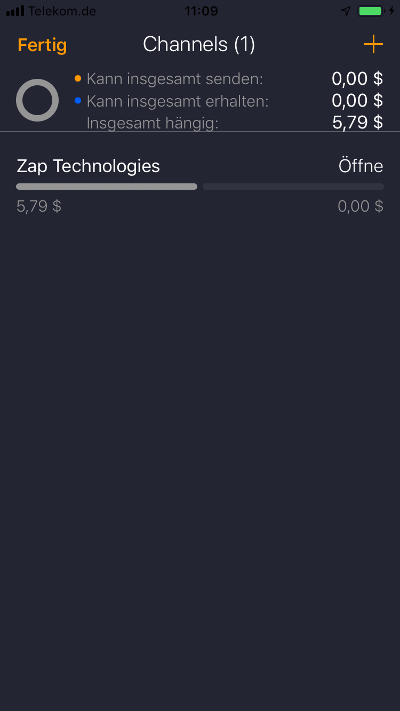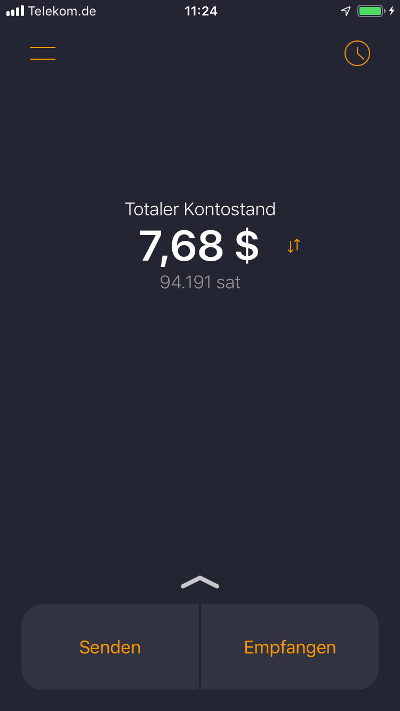 One's bitcoin balance is now $7.68. It has decreased by 48 cents or by 5,809 satoshi.
The full amount of liquidity was not deducted because the channel partner lends us the liquidity. He provides us with the liquidity on loan and we only paid the interest.
The channel partner gets the liquidity back at its free disposal when either party closes the channel.
We do not have the liquidity available immediately, as this transaction must first be confirmed by the blockchain. This may take some time.
In the channel overview you get displayed that you purchased amount of $5.78. (reduction due to exchange rate fluctuations) can be used for sending.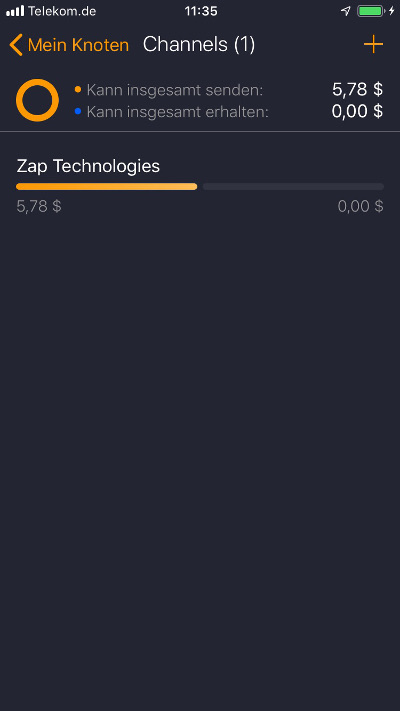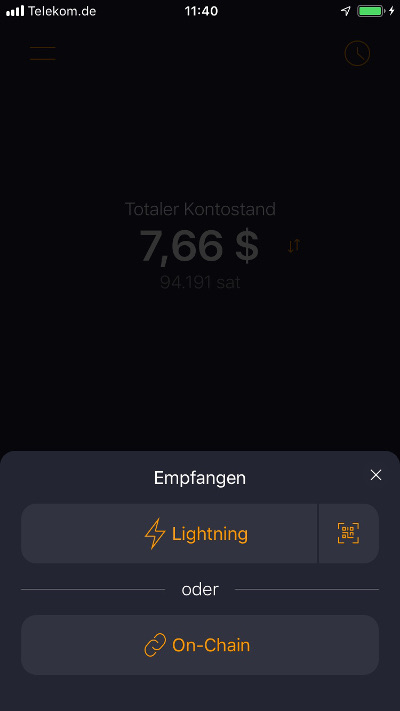 After the on-chain transaction is confirmed on the blockchain, Bitcoin (on-chain) and Lightning (off-chain) can receive payments.
Accordingly, I click on the corresponding function.
If I click on "Lightning" then I can generate an Invoice in which I enter the requested invoice amount and then send it to the payer.
I click on the icon with the QR code I can make a LNURL widdraw.
If I have Lightning credit with a service, I can use it to pick it up. I scan the QR code and then get the amount credited to my ZAP Wallet.
Conclusion about ZAP Wallet
The ZAP Wallet is suitable for the user who is already somewhat familiar with the Lightning. It is advantageous to understand the principle of channels and liquidity.
The special advantage of the ZAP wallet is that you have your own non-custodial wallet for Bitcoin and Lightning and do not have to operate your own node. This is required for all other Lightning Non-Custodial Wallet.
However, you do not get your own node. If you want to receive Lightning payments in your online store, this is still only possible with your own Lightning node.