The idea behind tippin.me is to reward Twitter posts with a few satoshi, as a kind of tip.
You install the tippin.me extension in your Firefox or Crome browser. Then you log in with your Twitter account.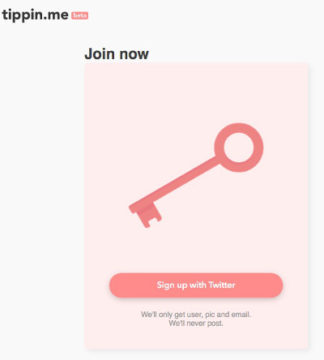 Tippin.me Login
Tippin.me obtains the username, profile picture and email address from your personal Twitter data.
After that you will get to the Dashboard view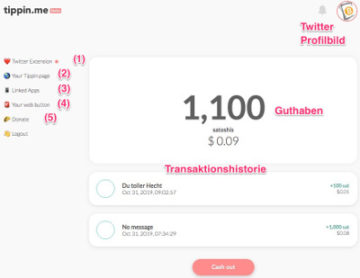 Tippin.me Dashboard
One now has their own Tippin.me Lightning Wallet to receive and send Lightning payments.
(1) If you view Twitter via the browser on which the Tippin.me browser extension has been installed, the Tippin.me icon in the form of a small lightning bolt will be displayed with every tweet

Tippin.me Tweet
By clicking on this lightning bolt, a donation can be made to the author of the tweet. This flash appears when a post is made, regardless of whether the user is a Tippin user or not.
If he is already a Tippin user, the tip will be credited to his account. If he is not yet a Tippin user, he will receive an invitation to register with Tippin in order to receive the donation.
You can also use Tippin.me outside of Twitter to receive Lightning donations yourself.
By clicking on "Your Tippin Page" (2), a link with QR code will be created. After calling this link, users will be shown this page: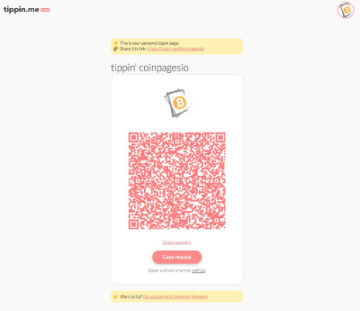 Tippin.me Coinpages.io
You can place this link on your homepage, blog or forums and thus point out the donation possibility.
For our partner site Coinpages the link will look like this:
https://tippin.me/@coinpagesio
Besides the link you can also create a tippin.me payment button (4) which can also be embedded as HTML code on your own pages.

Tippin.me HTML Code
For the visitor of your page it looks like this:
Tippin.me App
Tippin.me is available as an app for Android and iOS.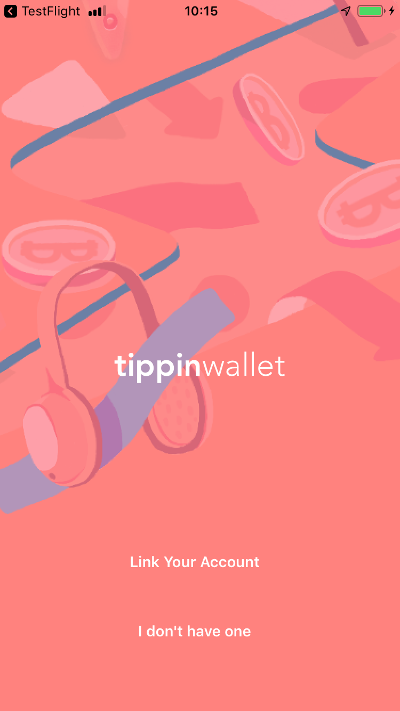 tippinWallet
After you have downloaded the app from the store and installed it on your smartphone, you can log in with your Twitter account there as well. Accordingly, the web wallet is linked to the mobile wallet.
The Tippin.me app is a non-custodial wallet and you need to write down your seed, consisting of 24 words, securely. After the synchronization process is completed, the following screen appears.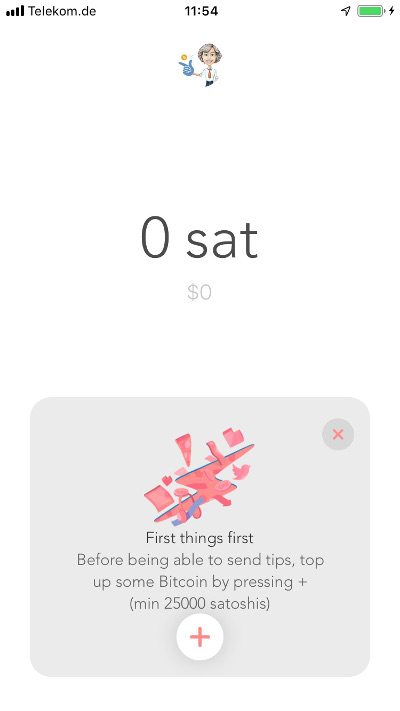 tippin.me App Dashboard
If you have not yet received tips for your Twitter messages or via your Tippin.me links and button on your homepgae, you have to fill your Tippin.me account.
After clicking on the plus sign, the QC code appears.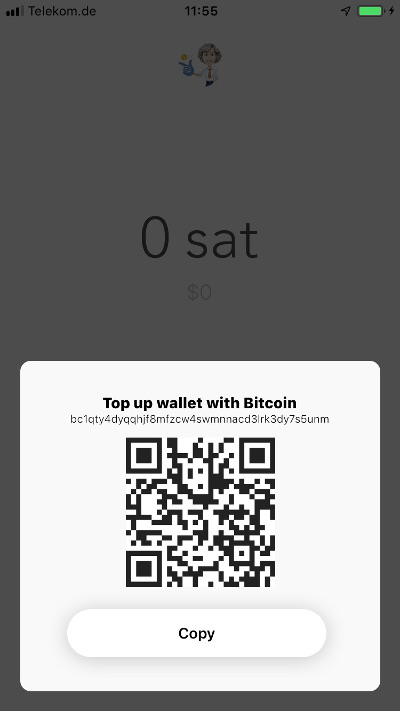 ippin.me App Recharge
This information can be copied and pasted into other applications.
This is a bc1 bitcoin address and not a Lightning address. No Lightning address can be generated in the Tippin.me app.
As a test, the equivalent of $1 was sent via Bitcoin (on-chain). To make a Lightning payment, we detour to our own payment page.
Here we pay from an existing Lightning Wallet to the displayed invoice.
This amount is immediately displayed on the website. Synchronization with the account balance on the app is not automatic.
The Lightning deposits via the web tipin page are shown separately to the Satoshi transferred to the app via Bitcoin.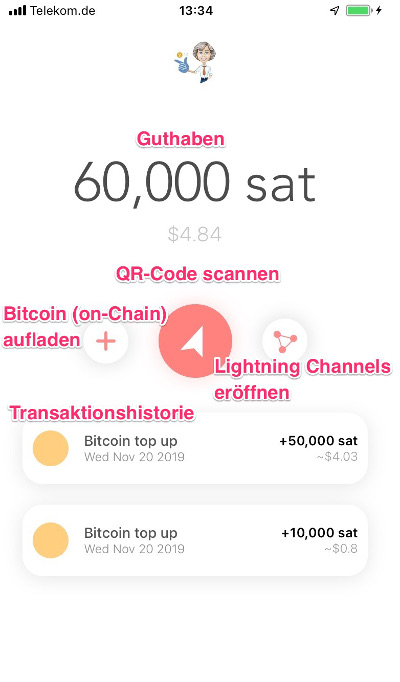 tippin.me App Overview
The balance on the app can only be topped up via Bitcoin (on-chain) and is restricted with the device. The minimum top-up amount is 25,000 Satoshi and can be triggered via the plus sign.
The arrow opens the option to scan the QR code. For this, a Lightning Channel must be opened beforehand. This is done via the network icon.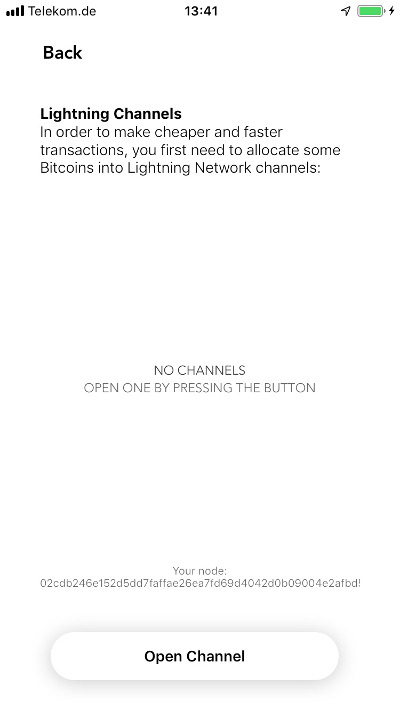 Open Tippin.me Channel
At this point the own public node address is displayed and the request to open a channel.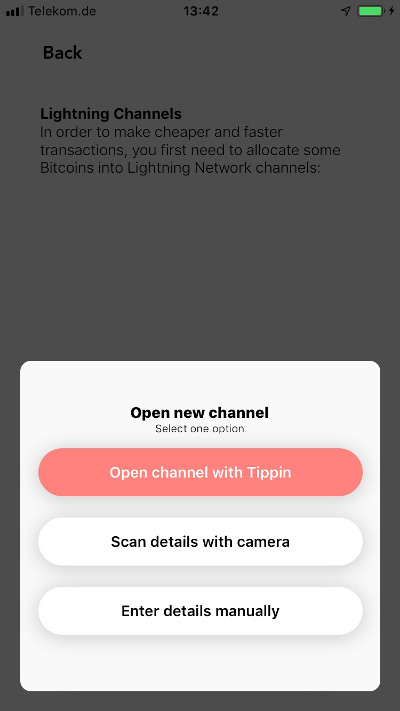 Open Tippin.me Channel
The user is free to connect through any channel. Tippin.me also offers this option. We use the Tippin channel at this point and click on "Open channel with Tippin".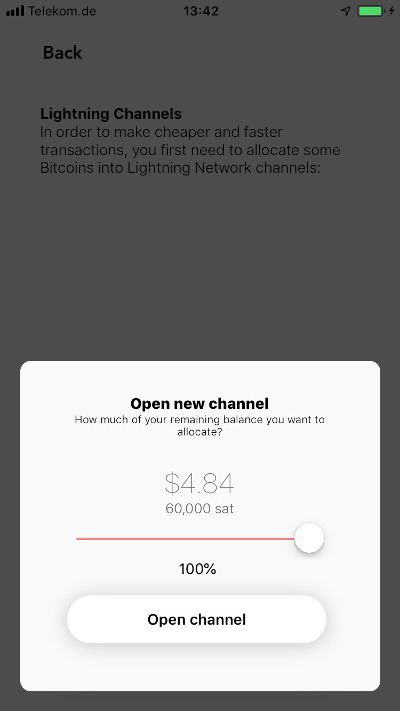 Open Tippin.me Channel
Now we can decide what liquidity the channel should have. Since we don't want to open any more channels, we use our entire balance of 60,000 satoshi.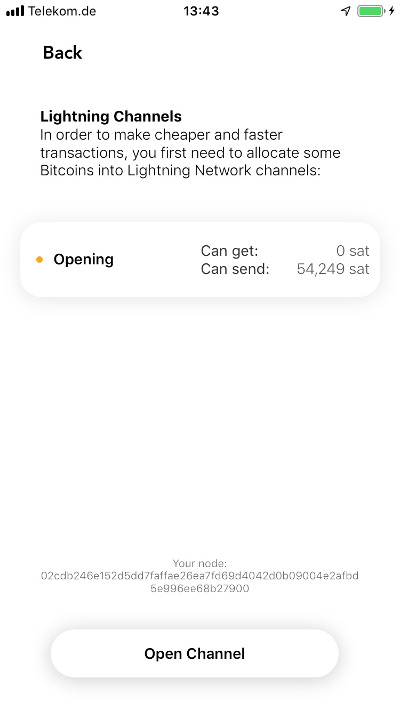 Open Tippin.me Channel
The opening of the channel is written to the blockchain (on-chain) and thus virtually becomes Lightning credit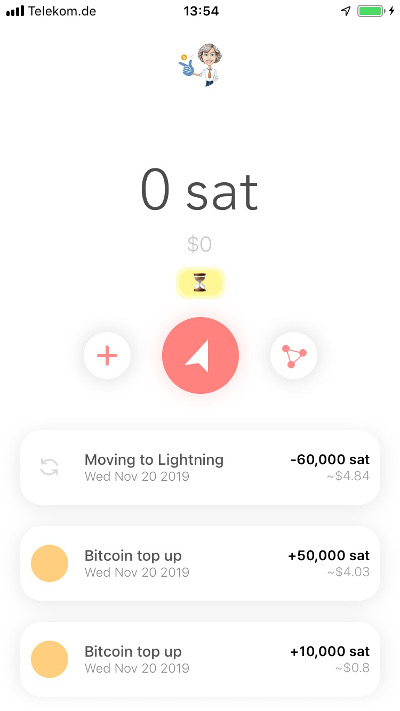 Transfer Tippin.me Channel
The channel is established and now we can send and receive Lightning payments (off-chain) through this channel.