Since we are looking at Bitcoin payment and Lightning at Coincharge, let's explore the question, What is Bitcoin Lightning?
For this purpose, we have created a small series about Lightning, which you can watch on our YouTube channel.
This video series on Bitcoin Lightning will be about:
How to accept Lightning payments in your store or online store?
What Lightning Wallet is available?
Presentation of applications and business models based on Lightning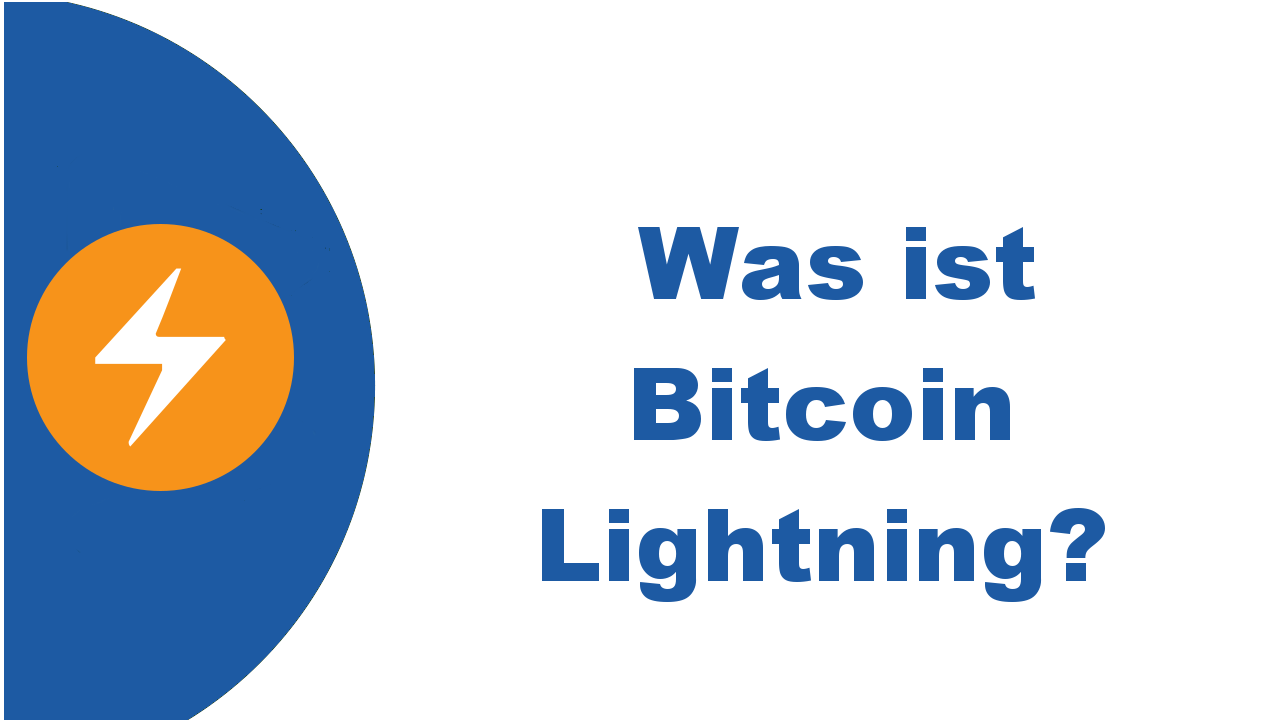 In this first episode we explain What is Bitcoin Lightning.
What is Bitcoin Lightning?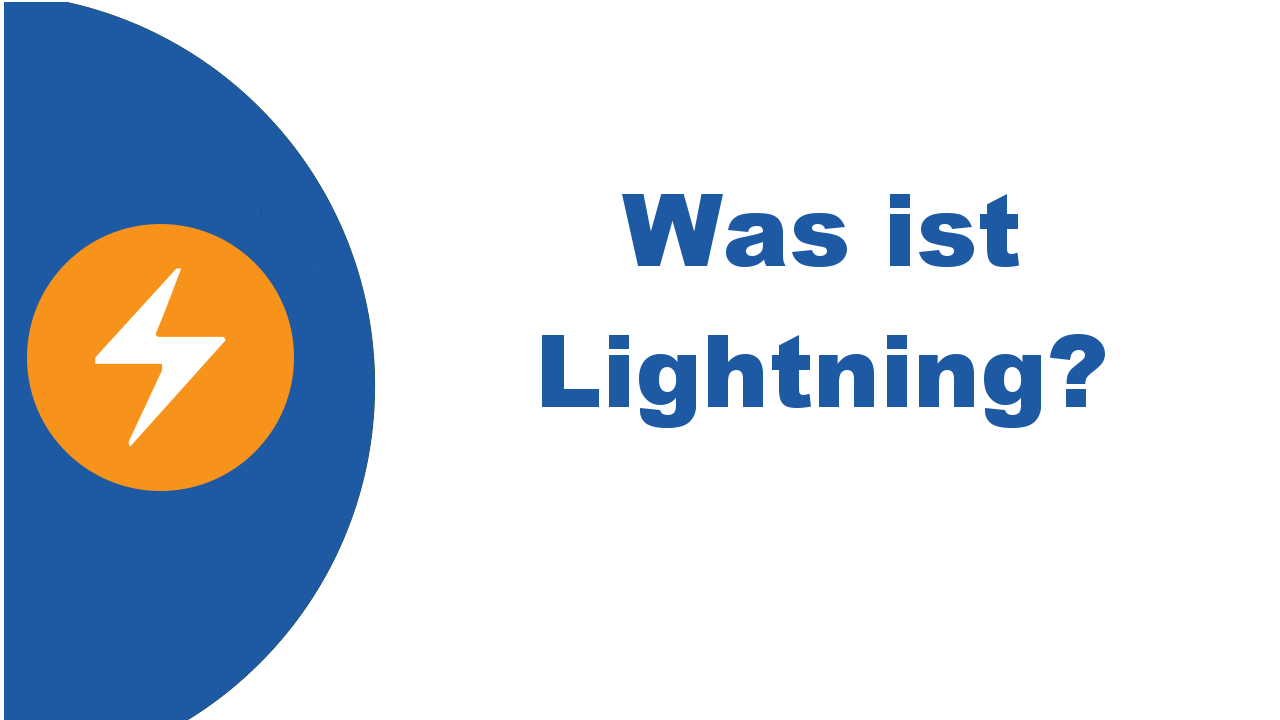 Lightning is not another cryptocurrency. You won't find it in the list of over 20,000 coins at Coinmarketcap, and you can't buy it from any Bitcoin exchange.
As early as 2010, a year after Bitcoin was created, Hal Finney predicted that Bitcoin would need a second-layer solution to scale.
Lightning's concept was developed in 2015 and went live in 2018.
Lightning is a payment over the Lightning network, which is another layer based on the Bitcoin blockchain.
This is why Lightning is often referred to as a second layer solution.
Lightning is a second layer of Bitcoin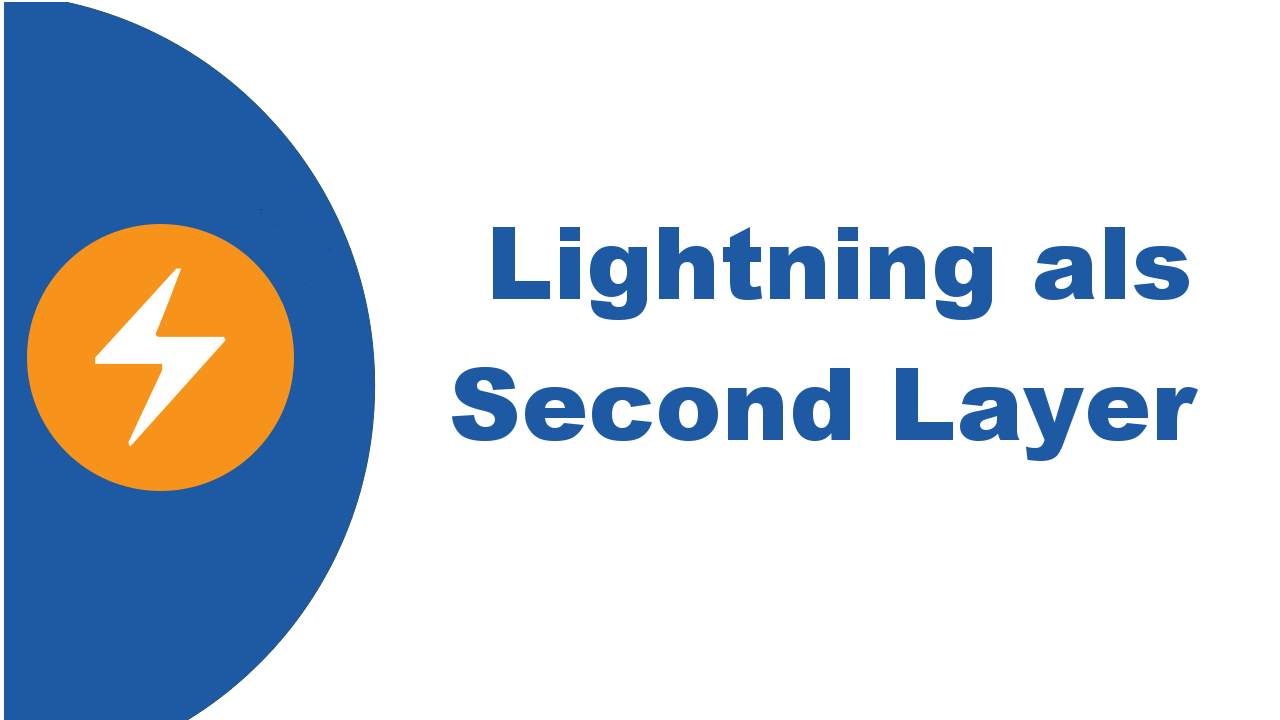 In technical terms, Lightning is also referred to as the second layer. It is a second layer that was built on top of the Bitcoin Blockchain. A new application that uses the blockchain.
Since we are dealing with payment processing here, let's try to explain it with a bank account example.
We get our salary credited to our bank account and through it we make our transfers, such as paying the rent, insurance and other bills.
But there are situations when payment through the bank account is not so suitable.
In the case of a payment at the supermarket checkout, the payment by bank transfer is not suitable.
An alternative is to pay by card, such as a Visa or Mastercard card. It is paid with a credit card and once a month the sum of all payments is paid through the bank account.
The credit card fulfills the missing features that the bank account does not offer. Thus, the credit card is another layer that builds on the bank account.
It is the same with our PayPal account. Any payment we make via PayPal will be settled through our bank account at the end of the day.
If we mentally go through all the payment methods, we will find that they all end up being billed through our bank account.
Thus, (almost) all payment methods are further levels based on the bank account.
Only Bitcoin and Lightning are not based on our bank account when we pay with it.
Lightning payments are based on the Bitcoin blockchain, but why is that?
What is the Lightning Network?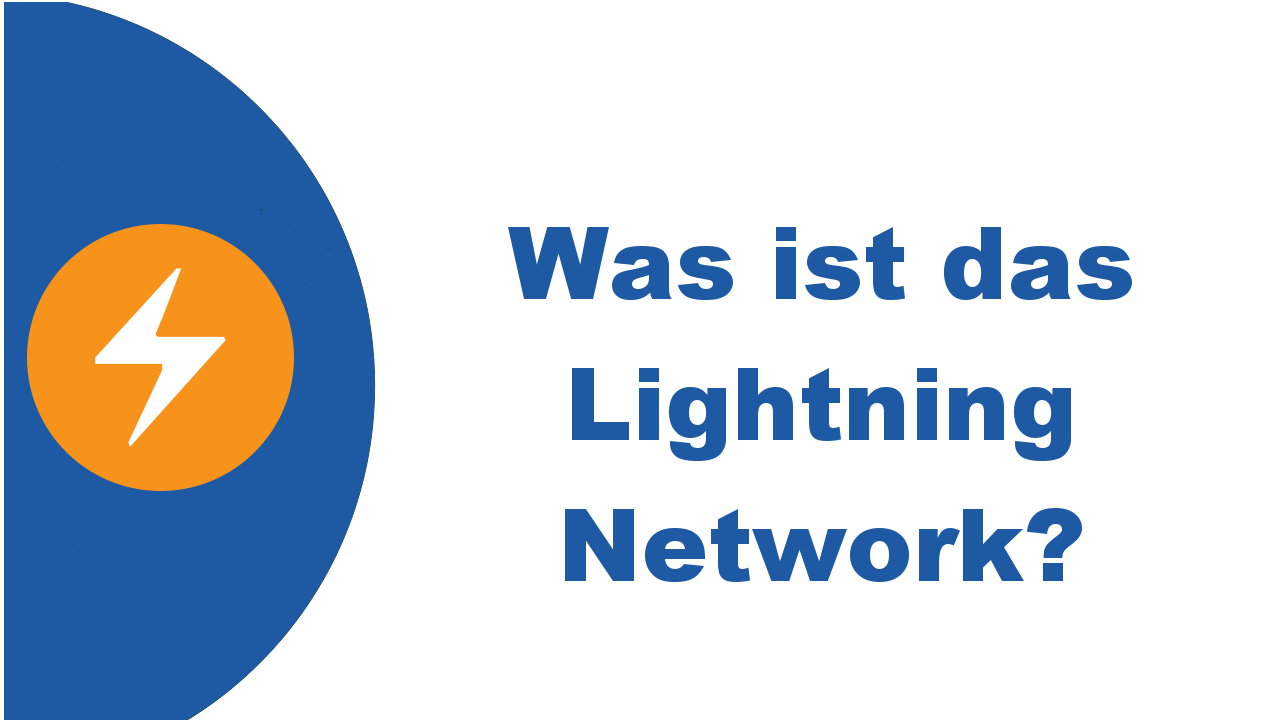 Lightning refers to payment over a Lightning network, where individual Lightning nodes are connected to each other via channels.
Anyone who connects to the Lightning network via a channel is part of that Lightning network and can participate.
To create a channel with the Lightning network, the Bitcoin Blockchain is required. When a channel is opened and later when it is eventually closed, this event is recorded on the Bitcoin Blockchain.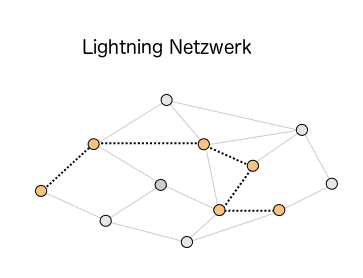 The blockchain is then no longer required for sending and receiving Lightning payments, but is done through the infinite channels that collectively make up the Lightning network.
The Bitcoin Blockchain would no longer be needed for this type of payment and thus the Bitcoin Blockchain would be relieved.
This relief can be explained by means of a beer mat.
You go to a pub and you would pay for each order individually. Alternatively, you could put each order on a coaster and at the end of the night you pay for the cap.
Using the analogy to a Lightning transaction, each stroke on the coaster would be a Lightning transaction.
These lightning transactions are then also called off-chain.
If you pay the entire cap at the end of the night, that would be the on-chain transaction that happens over the blockchain.
Therefore, Lightning payments allow for any number of Lightning transactions to be made without the need for a posting on the blockchain.
For the technical description of the Lightning network, we will leave it at this point. In a separate video, we go into the topic in a bit more detail.
If you want to use the Lightning network as a user, this is all organized by your Lightning app and you don't have to worry about it.
Bitcoin Lightning is like digital cash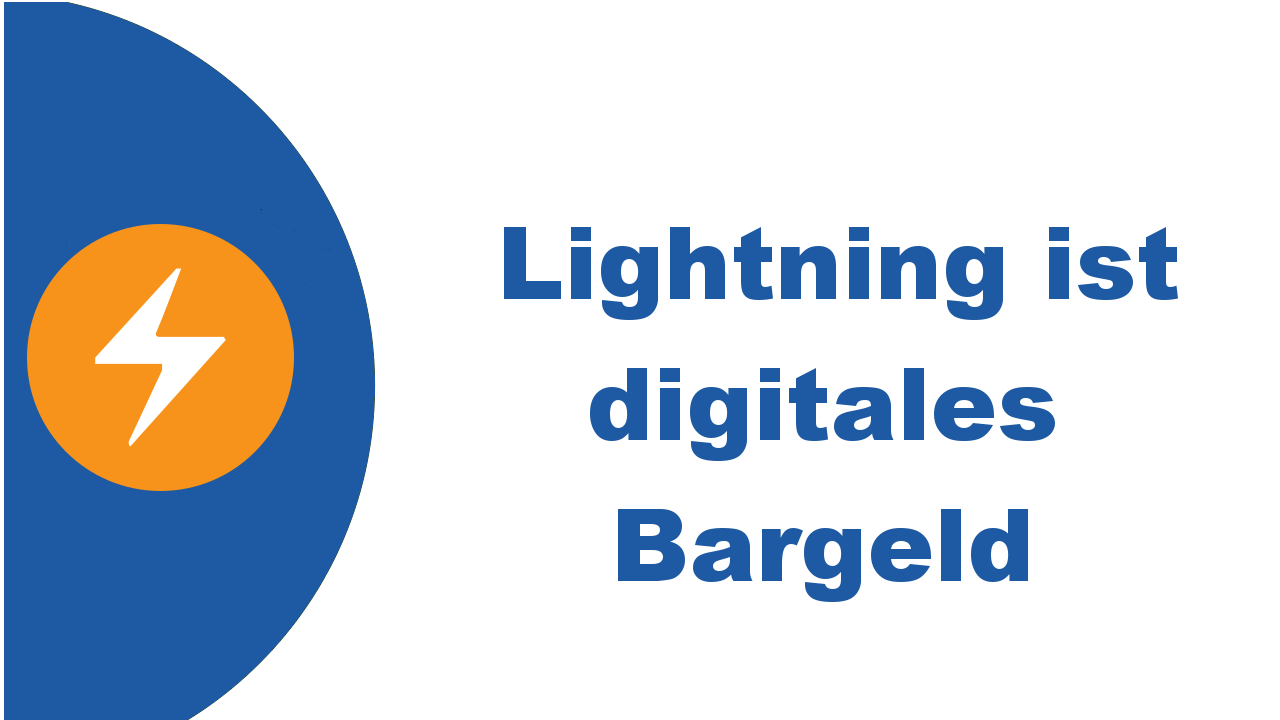 You can also say "Lightning is Bitcoin just in a different form".
Perhaps an analogy to the euro will help to illustrate it better.
We had talked about a bank account at the beginning. This bank account holds our euros in a digital form. If we go to an ATM, we can convert these digital euros into physical banknotes.
This cash has some features that make it one of the most popular payment methods and is used in 60% of all payments.
The characteristics of cash are also found in Lightning. That's why it's worth taking a closer look at these features with Cash and Lightning.
Payments of very small amounts
The coffee to go at the bakery around the corner, the vending machine in the cafeteria, or the financial contribution to a street musician, it's the small amounts that we pay for with cash.
Lightning payments are also predestined for the payment of small amounts, the so-called micro payments.
For small amounts, a payment by bank transfer or credit card is too costly and a Bitcoin payment that will be recorded forever on the blockchain is also a bit oversized.
Fast payment
In the case of a cash payment, the payer hands over the euros to the payee. The payment is made immediately, there is no chargeback risk and the credit is made immediately and the payee can freely dispose of the cash received immediately.
Also, a Lightning payment is executed immediately and the recipient does not have to wait 10 minutes for the payment to be confirmed on the blockchain.
Low cost of payment transactions
There are no costs for payment with cash.
When paying by Lightning, there are marginal costs that can almost be neglected.
Anonymity
People also like to use cash payment because they do not want every payment to be known. It's none of the bank's business when and where I bought my Coffee2Go or how I spent my end of the day.
While every Bitcoin payment is recorded forever on the blockchain, this is not the case with Lightning payments.
A Lightning payment is only known between the payer and the recipient of the payment and cannot be traced by anyone else.
Online/Offline
Cash is used in the real world and has the disadvantage that it cannot be used for payments on the Internet.
Lightning can be used for payments in the real and digital worlds.
Regional restriction
The cash can also be used only for a specific region, area or country. Although the U.S. dollar is an exception, it is accepted as cash worldwide.
But for the remaining 160 currencies that exist worldwide, the validity is limited to one's own country.
Lightning, on the other hand, can be used worldwide. Anyone in the world can pay with Lightning or receive and accept Lightning payments.
In summary, Lightning payments are particularly well suited when it comes to:
small amounts
that need to be transferred quickly and easily
the credit should be immediate and instantaneous,
the two business partners do not know each other and must trust each other,
a payment must be secure and final
As early as 2010, a year after Bitcoin was created, Hal Finney predicted that Bitcoin would need a second-layer solution to scale.
Lightning's concept was developed in 2015 and went live in 2018.
To use Lightning, you must become part of the Lightning network. To use Lightning, you must become part of the Lightning network. You need to establish a channel to the Lightning network.
If you have a Lightning app installed on your smartphone, then this Lightning app will take care of establishing this connection to the Lightning network for you.
Bitcoin has some drawbacks that Lightning addresses.
The most commonly cited criticisms are:
Bitcoin can process only 7 transactions per second
A Bitcoin transaction takes too long
A Bitcoin transaction is too expensive
It is unfortunately true that the Bitcoin Blockchain only allows a limited number of transactions.
But with the help of Lightning, the Bitcoin Blockchain is only needed to open or close a channel. Ideally, a channel is also never closed.
All Lightning payments can then be transferred via the worldwide Lightning network.
Thus, the number of possible transactions can be increased immeasurably. More transactions than the Visa network, the Mastercard network and all PayPal payments combined can be transferred easily via Lightning.
A Lightning payments is transferred in a few milli-seconds. There are some minor routing issues now and then and in finding the right paths for the optimal path of a payment through the Lightning network, but this is already being developed feverishly.
A Lightning transaction costs a few milli-sats, considerably less than a Bitcoin transaction, and is also cheaper than any other payment through another network such as from Visa, Mastercard, and PayPal.
Lightning is emerging as a promising solution for payments.
Jack Mallers of Strike.me opines:
Bitcoin is the future of money.
Lightning is the future of payments.
The next episode will be about "How to pay with Lightning?".
This article is intended for those who use Lightning, i.e. want to pay with it.
This article explains:
What is Lightning?
What is a Lightning Wallet?
How to get Lightning?
For which applications and business models is Lightning suitable?

Pay with Lightning at the vending machine
Pay in store with Lightning
Pay on the Internet with Lightning

Earn Lightning
Where can I pay with Lightning?