Settlement of small amounts with Bitcoin Lightning
The payment of very small amounts (micropayments) poses a problem with traditional payment methods. The reason is the cost of payment processing, which makes many business models unprofitable. With the help of Bitcoin Lightning, Bitcoin Micropayments can revolutionize the payment of newspaper articles, videos and games.
The following article explains why classic payment methods are not suitable for micropayments. But even Bitcoin itself cannot provide a 100% satisfactory solution. Can Bitcoin micropayments in the form of Lightning provide the hoped-for solution?
Classic payment methods
Payment processing costs are a combination of cost per transaction plus a percentage (discount) on the value of goods.
PayPal's fees for smaller merchants are 2.9% of sales plus € 0.30 cents per payment. Comparable conditions exist for the acceptance of credit card payments.
This results in total costs for payment transactions of at least 50 cents per order.
If a value of goods of €1,- already requires 50% to be paid for payment processing, numerous business models become unprofitable.
Even if the costs of standard Internet payment methods such as credit card, PayPal, direct debit or online bank transfer (Giropay, Sofortüberweisung) would theoretically make payment processing affordable, the additional costs of fraud prevention, payment defaults, chargeback fees and collection must also be taken into account.
Standard internet payment methods do not provide the merchant with a 100% payment guarantee and thus the cost of any chargebacks must also be factored in.
A supposedly inexpensive payment method such as direct debit will also make numerous business models uneconomical due to the return debit fees of around €5. With a chargeback rate of 10%, which would not be unusual for digital content, the chargeback fees alone would total more than the total revenue.
If merchants wanted to charge customers for chargebacks, they would have to take fraud prevention measures in advance of an order.
This includes the recording of customer data in order to initiate collection and dunning procedures in the event of a payment default.
But collecting this data would meet with a lack of understanding from customers. In addition, complicate the ordering process, lead to numerous purchase cancellations and significantly worsen the conversion rate.
This has led to a preference for providing content on the Internet free of charge and trying to generate revenue through banner advertising.
Bitcoin
Can micropayments be realized with the help of Bitcoin?
A supposed solution to this problem was seen in Bitcoin for a long time. However, due to the rise in Bitcoin's price over the past few years and the increasing use of Bitcoin, transaction fees have increased significantly.
The fees for a Bitcoin transaction are around 50 cents per transaction, which is in the same range as PayPal and credit card payments.
Thus, for cost reasons, Bitcoin micropayments are not an alternative to traditional payment methods such as credit cards and PayPal.
The main difference, however, is that with PayPal and credit card, the merchant bears the cost of processing the payment. For Bitcoin payments, transaction fees are paid by the payer.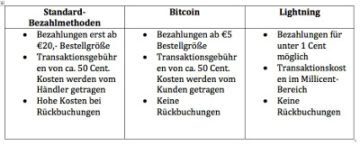 Bitcoin Micropayments mitLightning
Bitcoin Lightning
Bitcoin Lightning is not a new cryptocurrency, but an additional feature of Bitcoin for the use of microtransactions.
Lightning eliminates the disadvantages of traditional payment methods and Bitcoin for the payment of small amounts on the Internet.
With Lightning payments, the settlement of micro amounts is possible without any problems. Theoretically, products can be sold for 1 Satoshi. This is less than one cent.
The costs for a Lightning transaction are not borne by the payee (merchant), but by the payer (buyer).
Thus, Bitcoin Micropayments can provide a solution in the form of Lightning.
For more information on Lightning, we recommend the article "Lightning for users". The article describes the use of Lightning from the user's point of view.
What business models are possible with Bitcoin micropayments via Lightning?
Payment processing for Bitcoin micropayments is efficient, cost-effective and profitable via Lightning. In the following, we will look at the Internet business models in the micropayment sector for which Bitcoin Lightning payments are predestined.
Banner advertising pay per click
One of the first business models established via micropayment was the payment of click commissions to users when they clicked on banners or visited websites.
Advertisers can buy visitors for their own website for a few Satochis (smallest Bitcoin unit). Publishers (site providers) receive a few satoshi in return for the banner spaces they place.
These business models are referred to as faucets and are advertised under buzzwords such as "bitcoin for free" or "free bitcoin."
Faucet business models became unprofitable as Bitcoin's price rose. With the help of Bitcoin micropayments in the form of Lightning, Faucet can experience a renaissance.
Affiliate Programme
Numerous affiliate programs struggle with the problem of small amounts. Worldwide payouts to affiliates are associated with very high transfer costs. The costs of the transfer often cost several times the amount of the transfer and are therefore disproportionate to the commission to be paid.
Paying affiliate commissions via Bitcoin has the advantage that commissions can be paid cost-effectively worldwide. The Bitcoin payments can be credited to the affiliate's Bitcoin account within a few minutes worldwide.
Thus, the cost of paying affiliate commissions can be significantly reduced and affiliates from all over the world can be accepted.
Another advantage from the micropayments point of view is that affiliate commissions can also be paid out in cents via Bitcoin micropayments in the form of Lightning. This saves the effort of credit management up to a minimum payout amount.
It would be possible that every time there is a commission claim, immediately the commission is also paid by Lightning.
Publishers
Publishers in particular face the challenge of transferring the business model of a newspaper to the Internet.
While a print edition can be sold at newsstands or by subscription, on the Internet the content is made available free of charge.
Either one offers only a slimmed-down version on the Internet to show presence or one hopes for a small additional income via banner advertising.
Publishers try to convert the reader into a permanent subscriber. But on the Internet, readers don't want to sign up for a subscription if you only want to read a single article.
With Bitcoin micropayments, publishers can meet the new reading behavior on the Internet.
With the help of Lightning, publishers can now sell individual newspaper articles for a few cents. However, hourly or daily accesses can also be marketed.
Publishers can use such offers to generate new readers and later also convince them to take out a low-priced monthly subscription.
Donations / Tips
People are happy to give a little something for a good performance.
Be it the street musician or the friendly waitress in the restaurant.
On the Internet there are numerous aids, explanations or instructions, which are provided free of charge.
Wouldn't it be great if you could reward this commitment with a few cents?
For the author of the contributions, a small donation is a nice extra income, but also a nice thank you.
A Bitcoin Donation button can be used to quickly transfer a few Satoshi as a tip.
Music / Songs
Selling individual songs can be a business model. At least this is shown by the success of iTunes & Co. These providers were able to be successful because the individual purchases were aggregated into one large order and collected via the credit card stored in the store.
Using Bitcoin and Lightning, individual songs can be sold over the Internet. Even amateur and school bands can sell songs to their fan base and market themselves.
Software
The distribution of software has been repositioned by the app store. Basic software costs a few cents and additional features can be purchased through in-app purchases. Billing takes place via the payment methods stored in the app store.
These distribution options do not exist for more complex software packages. Still a lot of money has to be paid for a one-time software license. There are no price differences here, whether you use the software daily or only occasionally.
With the help of Bitcoin micropayments, it would be possible for people to sell the software depending on how much they use it.
Instead of buying a professional image processing program for an advertising agency, private users could rent the same software solution on demand and pay according to the duration of use and type of use.
Video portals
Video portals are revolutionizing TV viewing behavior. Instead of gathering in front of the TV at fixed times, the trend is toward watching TV on demand. With Bitcoin micropayments, TV stations can offer their own shows and reports for a fee for a few cents on the Internet.
But private hobby broadcasters can also offer their own YouTube channel for a fee or have it supported by donations.
Erotic supplier
Payment by Bitcoin offers users the advantage that the services offered can be used anonymously. Registration or identification with personal data is not required at any time. Likewise, no confidential account or credit card information needs to be transmitted to an unknown provider.
Providers of erotic services can offer individual video films instead of monthly subscription models. Billing models such as pay-per-video or pay-per-download can be settled efficiently.
LiveCam providers can benefit from Bitcoin payments in the way that there is no chargeback risk. Users pay prepaid via Bitcoin to the cam portal and then use the offer per minute.
The risks of fraud due to benefit creep or chargebacks are completely eliminated.
Games
Games are offered as either low-cost app or browser games. In addition, the games are available on consoles or as a software version for the computer.
As with software, games can be marketed via Bitcoin. Especially for additional functions or items, which are offered for small amounts in addition, the sale via Bitcoin Micropayments is predestined.
More and more games are also played in a worldwide community over the Internet.
Here, Bitcoin offers itself as a common global currency. Tournament and eSports event organizers can settle entry fees or prize money with Bitcoin and Lightning.
Tournaments can be organized and played in worldwide. The entry fees will be paid in Bitcoin, as well as the tickets to watch the Games. Likewise, the prize money and winnings can be paid out accordingly.
It is at such international events that Bitcoin's advantages as a cross-border and international currency become apparent. Bitcoin can be accepted or paid for worldwide. This in a few seconds and at very low transaction fees.
Gambling
The gambling industry was one of the first to discover the benefits of Bitcoin and is the furthest along in using Bitcoin as a payment method.
In the gambling industry, there are providers that offer Bitcoin as a payment method within an overall payment mix. If a player wants to top up a credit account with €100, then this can alternatively be done with Bitcoin, but the €100 will then again appear on the game account. The bets and the winnings are also settled in the fiat currencies, i.e. Euros.
However, pure-play Bitcoin providers are increasingly establishing themselves. Here, the gaming account is also maintained in Bitcoin and the betting and winnings payouts are also made exclusively in Bitcoin.
The advantage for a bitcoin-only betting service is a more customer-friendly registration process.
The player can quickly bet on the result of a football match and any winnings will be paid directly to the Bitcoin address on file.
Conclusion
Particularly in the micropayments sector, Bitcoin Micropayments with Lightning is seen as having huge development potential. In the past, the implementation of interesting business models failed due to the lack of payment methods.
With Bitcoin Micropayments and Lightning, completely new business models can be realized on the Internet. It will become clear who is ahead of the game here at an early stage and implements the most innovative concepts.