Bitcoin Premium Rate Number
First Payment is a provider of premium rate phone numbers. For the Bitcoin Premium rate number product, Coincharge acted as a consultant and assisted in setting up a BTCPay server and implementing the payment methods via Bitcoin and Lightning.
Premium Rate Numbers are used by companies, public authorities or other institutions to contact customers and interested parties. Typical examples of premium rate numbers are customer service hotlines, order hotlines and information hotlines.
Service numbers, often also called special numbers, are characterized by special area code identifiers. In addition to free service numbers (0800 numbers), there are also chargeable service numbers (e.g. 0180 numbers).
In addition, value-added services such as premium services (area code 0900) and mass transit services (area code 0137) are included in the range of service numbers.
Earn Bitcoin by phone call
Anyone offering consulting services on the phone can use premium rate numbers (0900 numbers) to have the caller pay for the service.
Compared to the normal cost of a phone call, the caller pays a higher fee to these premium service numbers.
The called party receives a corresponding share of this fee.
In the field of adult erotic entertainment and astrology consulting, premium service numbers are an important part of the business model.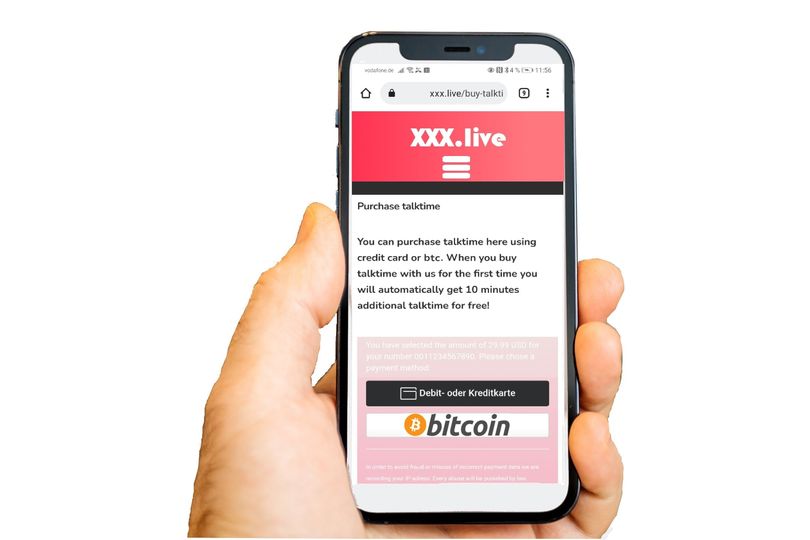 The caller pays for the call via his telephone bill. The telephone bill will show the 0900 number and the details of the service called.
The provider First Payment offers the possibility that called parties receive an appropriate payment for a phone call and the caller does not have to call a 0900 premium service number.
Coincharge has supported the implementation of Bitcoin.
Top up prepaid balance with bitcoin
The caller has the option to call a 0900 premium service number or alternatively a normal and neutral number.
When calling from a regular phone number, the caller must first load prepaid credit.
The caller's own telephone number is required to create the prepaid account. This information is only required to create the account and no money will be collected through the phone bill.
The caller can choose from several deposit options.
One of the payment options offered is Bitcoin and Lightning.
The caller's prepaid account will be credited with the deposit amount.
If the caller makes a call using the telephone number he/she specified when creating the prepaid account, the prepaid account will be debited with the corresponding telephone charges.
The called subscriber receives as compensation a portion of the telephone charges paid by the caller.
The payout is made via Bitcoin.
Thus, telephone consulting providers can earn Bitcoin for their services.
This service is available to callers and called parties worldwide. From any point in the world, the telephone consultation can be offered and likewise receive callers from all over the world.