This post is also available on:

@LightningTipBot on Telegram
@LightningTipBot is a Lightning wallet and Lightning address on Telegram. If you have an account on Telegram, then you can create a Lightning Wallet and send and receive Lightning payments with other Telegram users.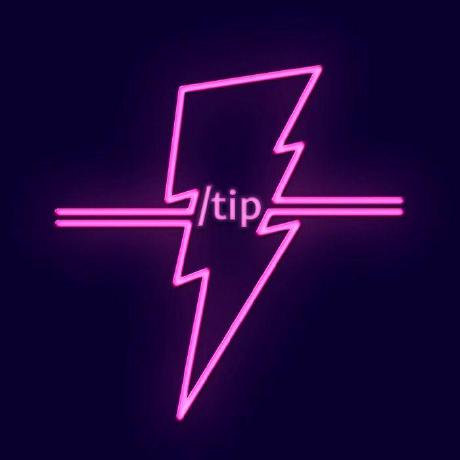 How to create an account with LightningTipBot, how to use LightningTipBot in Telegram chat and how to send and receive payments with a Lightning address, you will learn in this post.
With LightningTipBot you can send and receive Lightning payments to other users and groups within Telegram.
Create LightningTipBot account
To create a LightningTipBot Lightning Wallet, a Telegram account is required.
Then go to this link:
Your Telegram account will then connect to the user @LightningTipBot.
To communicate with the bot, you must enter commands that begin with a slash /.
The most important commands are presented here.
/start
Once you have connected to LightningTipBot, the /start command will be executed. This will create your account, generate a Lightning address and list the most important commands.
Use LightningTipBot
/help
With the /help command we get our Lightning address as well as an overview of the different commands.
Send & Receive Lightning Payments
/invoice
Our freshly set up Lightning Wallet does not have Lightning credit.
We therefore create a Lightning Invoice so that transfers can be made from another Lightning Wallet.
/pay
If you have received a Lightning invoice yourself and now want to pay, the /pay command is used.
After the /pay command, the Lightning Invoice is copied in. This Lightning Invoice usually starts with lnbc and then comes a very long letter-number combination.
For example, the command would look like this:
/pay lnbc500n1psjlzx7pp5lk5mhezgudsg390t63k5dhz9ewx48m3hae4tw02d7dhucglffd3sdp0d9h8vmmfvdjjqenjdakjqnrfva58gmnfdenjq4rfwppx7aqcqzpgxqrrssrzjqvgptfurj3528snx6e3dtwepafxw5fpzdymw9pj20jj09sunnqmwqzjn8gqq8jqqqqqqqqlgqqqqqqgq9qsp5sw5z483jrwfsjvxw4vwrh93s72v99fxl4wz35thzdc32jptrpwls9qyyssqmgzemfxcv9qaq9mt0t0j97rxcl7vtnu8y9qktansx40vx4k3z32qj2ql5hnkml25nfwg2ckzkf0xamfnxqeqss4gghntja9aevjkelgq09vxe8
We will then be asked again to release the payment.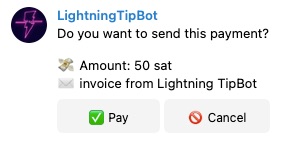 /tip
With the command /tip you can give tips to other users.
If in a group chat on Telegram, the user LightningTipBot is a member, then you can use the /tip function in this group.
/send
The /send command is used to send Lightning payments. You first enter the command, then the amount in Satoshi that you want to send.
Then follows the specification of the recipient. As a recipient you can either enter only the Telegram username or Telegram-Username@ln.tips.
Finally, you have the possibility to send a message.
In order for the recipient to receive the Lightning payment, they must also have a LightningTipBot account or other Lightning address in addition to their Telegram account.
For testing, we sent a Lightning payment to our lntxbot Telegram Lightning wallet. Instead of the plain username we used the Lightning address.
/send 21 Onleines@lntxbot.com
Besides the possibility to send to a Lightning address, you can also send to another Telegram user Sat.
This assumes that this Telegram user also has a LightningTipBot wallet.
We want to thank Telegram user @calllllllle for his work on the LightningTipBot and send 21 sats:
/send 21 @calllllllllle thanks for LightningTip Bot
You can also support the project with the /donate command.
Write /donate and additionally the amount you would like to donate.
/donate 1000
BlueWallet and Zeus
You can also use LightningTipBot via Zeus or the BlueWallet.
If you already use BlueWallet on your smartphone, then you can additionally add LightningTipBot Wallet as an external wallet.
/link
To do this, enter the command /link and a QR code will be displayed. With this QR code or the url mentioned there you can make the link.
Never give this data to anyone, because with this information they have access to your sats.
After you have clicked on Add a Wallet, you have the option to import an already existing wallet.
To do this, click on Import Wallet.
You can then scan the QR code displayed by LightningTipBot to import LightningTipBot Lightning Wallet.
The name of this wallet is displayed as Imported Wallet. It is recommended if the name is changed to LightningTipBot Wallet, for example.
You can now use the LightningTipBot Lightning in two different ways. Either via your Telegram account or via BlueWallet.
with BlueWallet you also get all historical transactions displayed.
LNURL
/lnurl
With LNURL you can also receive payments.
If you enter the command /lnurl, then you will see a QR code and also a series of numbers and letters in red, starting with LNURL.
Lightning Wallets that support the LNURL Pay feature can send a payment to you without requesting a Lightning Invoice from you first.
The payer scans the QR code and can set an amount and send a message.
Lightning payments can be made to your Lightning address from the following Lightning wallets:
Blixt, BlueWallet, LNbits, lntxbot, Simple Bitcoin Wallet (SBW), Zebedee, LightningTipBot.
You can find the complete list here.
Have you already imported your LightningTipBot wallet into BlueWallet? Then you can scan the adjacent QR code with your smartphone and donate something to me.
If you can't scan the QR code, copy the following string:
LNURL1DP68GURN8GHJ7MRW9E6XJURN9UH8WETVDSKKKMN0WAHZ7MRWW4EXCUP0DAHXCETFDEJHXJAAZ37
Add this string to one of the Lightning Wallets above and you can donate to me this way.
You find this LNURL string a bit too complicated and uncomfortable?
Then use my Lightning address onleines@ln.tips
Lightning Address
A Lightning address is the more convenient representation of the previously described LNURL version. Instead of a long LNURL string you can use a Lightning address that looks like an email address.
Only you can't send emails with this Lightning address, but Lightning payments.
Your own Lightning address of LightningTipBot is composed of the username and after the @ sign the addition ln.tips like for example: telegram-Username@ln.tips
For example, my address is onleines@ln.tips
How you can make a Lightning payment to a Lightning address, we show with the example of BlueWallet.
Open a Lightning Wallet on your BlueWallet and select the Send function there.
Conclusion
The LightningTipBot Lightning Wallet is a compelling Lightning wallet for use on Telegram. Instead of clicking on a like button, you can express your approval with a few sats.
You can send and receive Lightning payments not only within Telegram, but across the entire Lightning network.
You don't need a Lightning Node or anything else.
All you need is an account on Telegram and connect to https://t.me/LightningTipBot and you can send and receive Lightning payments.
Further technical information can be found on Github at: https://github.com/LightningTipBot
This post is also available on: