Lightning Address
A Lightning address is like an email address, except that you can use it to send and receive Bitcoins over the Lightning network. Instead of creating a new Lightning invoice every time you want to receive a Lightning payment, you can give the sender of the Lightning payment a Lightning address that is always the same. The payer can specify the amount and add a message for the payee.
For those who want to know a little more about what a Lightning address is, this article is for you.
What is a Lightning address and which Lightning Wallets support sending and receiving Lightning payments via Lightning address?
With a Lightning address you can easily receive Lightning payments. In this post, we explain what a Lightning address is and how it differs from a Lightning invoice.
We show how to send a Lightning payment to a Lightning address.
We give an overview of the Lightning Wallets that you can use to get a Lightning address yourself.
What is a Lightning address?
What is a Lightning Invoice?
Who does not know this? One receives an invoice and is asked to transfer the amount to a specific bank account, specifying the purpose of the transfer.
When we have paid this invoice, the payee sees the receipt of payment on his bank account and can see from whom the invoice was paid.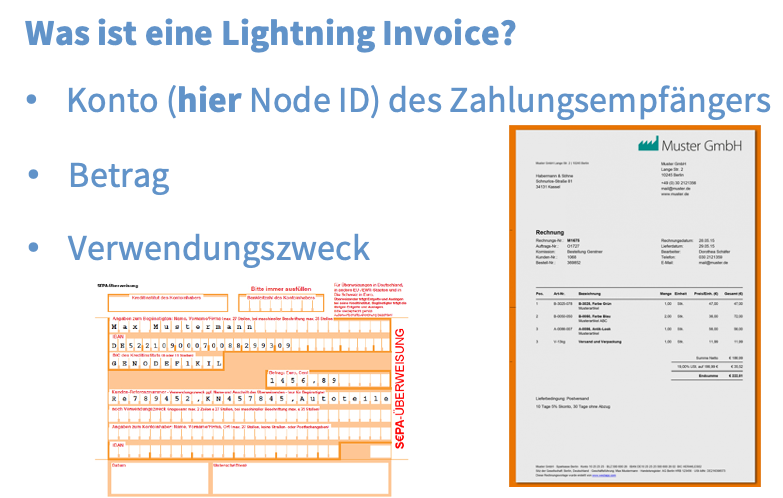 A Lightning Invoice or Lightning Invoice works according to this principle.
Also with Lightning, the recipient of a Lightning payment creates a Lightning Invoice.
This Lightning Invoice contains relevant information such as the amount, the purpose of the payment and the account to which the amount is to be credited. This Lightning Invoice is then usually transmitted to the payer in the form of a QR code.
If the payer executes the payment, the payee receives all the information on the payment back and can clearly assign the incoming payment to himself.
A Lightning payment requires that the payee create a Lightning Invoice beforehand.
These Lightning Invoices are also created automatically when you go to an online store to pay for the goods in your shopping cart with Lightning. When you pay in-store, the merchant enters the invoice amount into their Lightning Wallet and a Lightning Invoice is created in the background, which can then be scanned and paid via QR code.
What is a Lightning URL (LNURL)?
Now, it may happen that the payee has not created a Lightning Invoice in advance and you, as the payer, just want to send someone some sats.
The best example of this is a donation. You may want to donate some sats to me and don't want to ask me for my Lightning Invoice first. It would be better if you just had an address from me that you could just send something like that to. Maybe still with a short message, but simple and straightforward.
With a Lightning Invoice this is not possible and therefore there is LNURL Pay for such cases.
The LN in LNURL stands for Lightning and URL you may know as internet address and also with LNURL a certain file is called via the internet.
Such a LNURL Pay looks then for example like this:
LNURL1DP68GURN8GHJ7EM9W3SKCCNE9E3K7MF0D3H82UNVWQHK7MNVV45KUETNH9QHJA
You can recognize a Lightning URL by the fact that it starts with LNURL.
You do not need a Lightning Invoice to make a payment to a Lightning Url. You can freely choose the amount, add a message and then make a Lightning payment.
Since no one knows this combination of numbers and letters, this is usually displayed in the form of a QR code: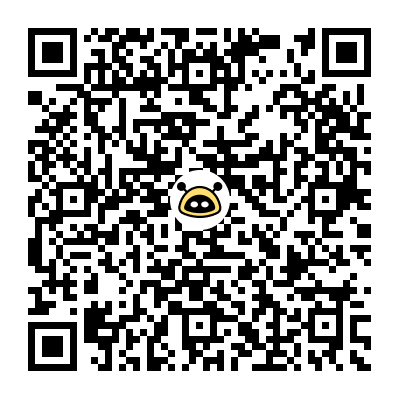 Such a QR code is wonderful when payer and recipient are facing each other or as shown above. Then you can scan the QR code with your Lightning Wallet, select the amount, leave a message and donate some Sats to me.
What is a Lightning address?
It is possible to represent this LNURL address in the form of an e-mail address.
Instead of a long combination of numbers and letters or a QR code, it is displayed as a
x
So a Lightning address looks like an email address and instead of a message, sats are sent to that address.
To send sats to a Lightning address
In order to make a Lightning payment to a Lightning address with its Lightning Wallet, this Lightning Wallet must support LNURL. Specifically, LNURL Pay.
Sending to a LNURL Pay address, which is equivalent to sending a Lightning payment to a Lightning address, is supported by almost all popular Lightning Wallets.
To show how this works, we'll use the Phoenix Wallet.
There we go to the Send section. Then the camera is activated. But since we don't have a QR code, we'll go to the Manual Input section below.
When we get to the input field, we have the possibility to enter the following data:
a Lightning invoice
a Lightning URL (LNURL)
a Lightning address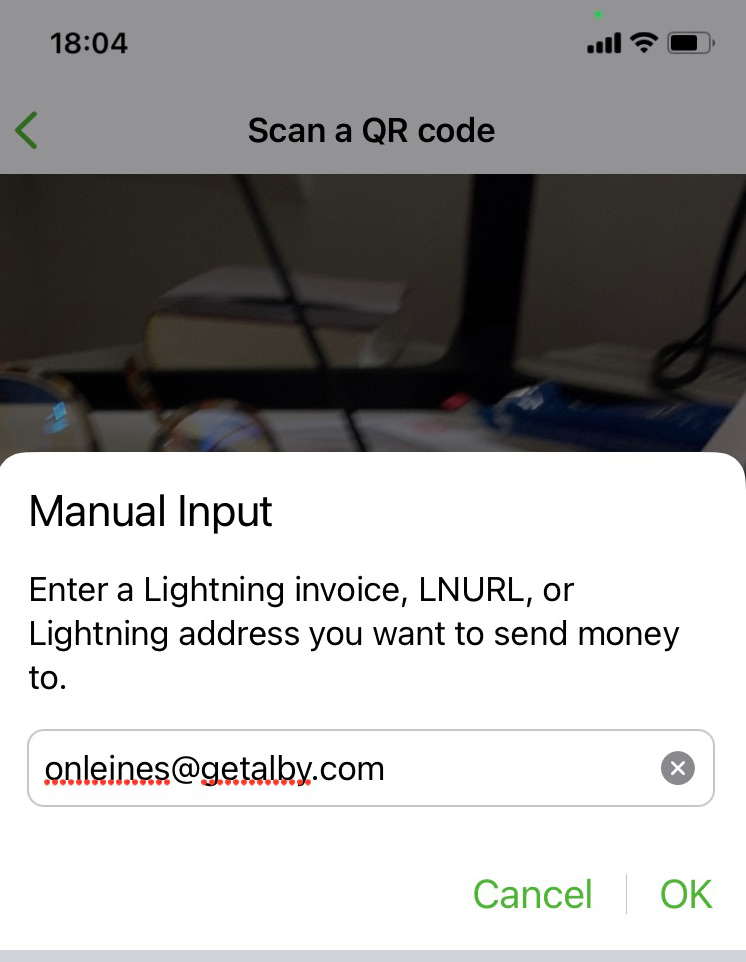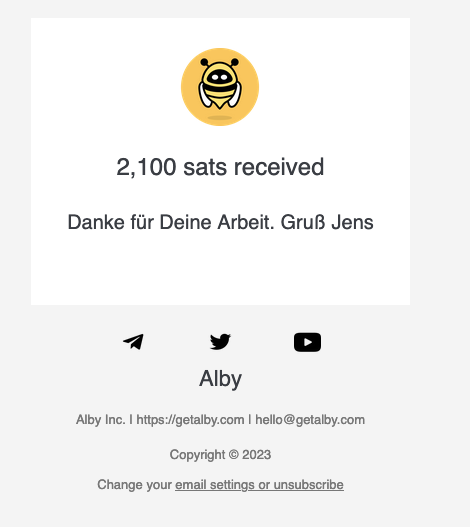 These input options are available and with most Lightning Wallets.
Here we can enter a Lightning Invoice, a LNURL or a Lightning Address.
We enter the Lightning address onleines@getalby.com.
Then the amount and a short message. Click on the cross. And then click on Send.
Deposit option at platforms
There are also services that provide their customers with their own Lightning Wallet for easy account deposit. Since the own Lightning address is a deposit option and helps the user to remember his own deposit address more easily.
At Bitrefill, the provider of voucher cards, registered users receive a Lightning address such as user@bitrefill.me. You can then send yourself Lightning payments to this address to top up your Bitrefill account. This credit can then be used to purchase voucher cards.
Lightning trading platform LNmarkets offers a similar service. As a registered user, you can fund your account at user@lnmarkets.com and then use it to execute your trades.
With Fountain.fm's podcast app, you can make deposits to your Lightning address user@fountain.fm and then use the credit to listen to and boost your podcast.
At Stacker.News you can also make deposits to your Lightning address user@stacker.news, which can then be used to read Stacker News.
How to get a Lightning address?
We have now seen how easy it is to send a Lightning payment to a Lightning address.
But what do you have to do to receive Lightning payments yourself via a Lightning address?
The simplest step is to use a Lightning wallet that provides a Lightning address.
So far, this is mainly supported by custodial lightning wallets. These are lightning wallets where the user's own funds are held by the lightning wallet provider and not by the user, as is the case with non-custodial wallets.
The reason for this is that the Lightning Wallet must always be available, virtually online, to receive Lightning payments. We learned at the beginning that the Lightning URL must be used to access a file over the Internet. Only custodial wallet providers can currently provide this permanent online presence.
Perhaps in the future, non-custodial lightning wallet providers will also offer corresponding solutions.
But which lightning wallet providers offer a lightning wallet?
You can find a detailed list of all Lightning wallets where you can get a Lightning address at the end of our article.
The most popular Lightning wallets with a Lightning address are Alby and Wallet of Satoshi.
Let's take a closer look at the two Lightning wallets with Lightning addresses.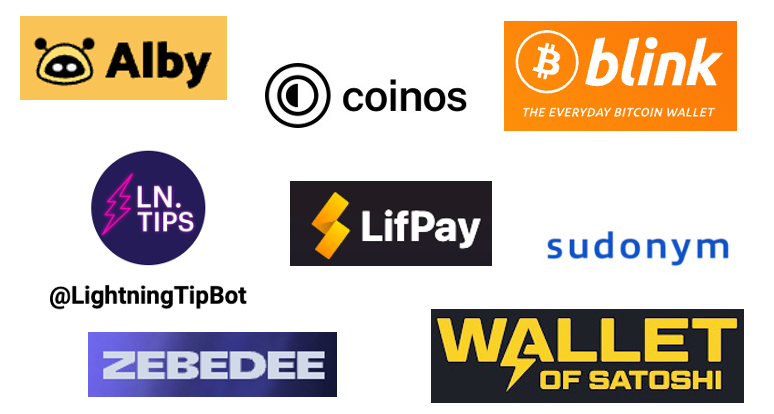 How to get a Lightning address at Alby
Alby is a Lightning wallet that works as a browser extension. This means that you can integrate this wallet into your browser and pay with Lightning with one click when you come to a website that accepts Lightning payments.
Go to the Getalby.com website and open an account there or create an Alby Lightning Wallet.
Then go to Wallet in the settings and you will get the following information for your personal Lightning address.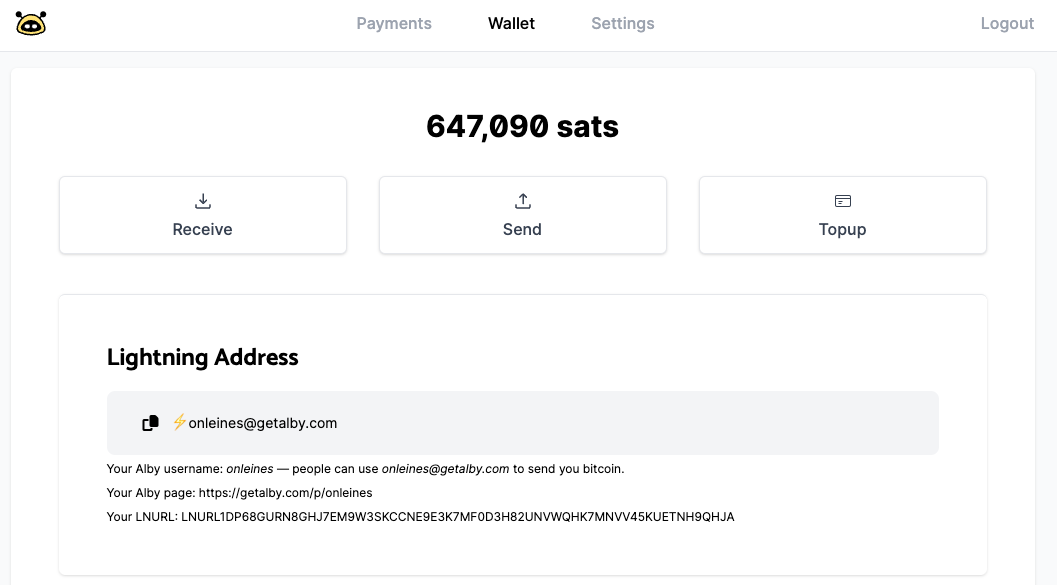 A Lightning address is automatically created from your username.
My username is Onleines and accordingly my Lightning address is onleines@getalby.com.
Then there is the personal Alby Page as a donation page for each user at https://getalby.com/onleines or with your own username.
Then there is your LNURL address. You see, this address starts with LNURL and as we learned at the beginning, this LNURL address can also be used for Lightning donations, but more comfortable is the Lightning address.
If you add png to your sepndenseite, then the LNURL address will be displayed as QR code. In my case the address would be: https://getalby.com/onleines.png
How to get a Lightning address at Wallet of Satoshi
The Wallet of Satoshi is the most widely used Lightning wallet. Here you will also be provided with a Lightning Wallet.
Unfortunately, the username of Wallet of Satoshi is predetermined and cryptic such as gaspingounce50@walletofsatoshi.com.
However, you can get a customized Lightning address at Wallet of Satoshi.
To do this, you need to register at Wallet of Satoshi with your email address.
Then you must have received and sent at least one Lightning payment and also sent or received Bitcoin payments.
To make a Bitcoin payment, you must have sent or received at least 1 million sats. A Bitcoin payment costs 0.5%, or 5,000 sats.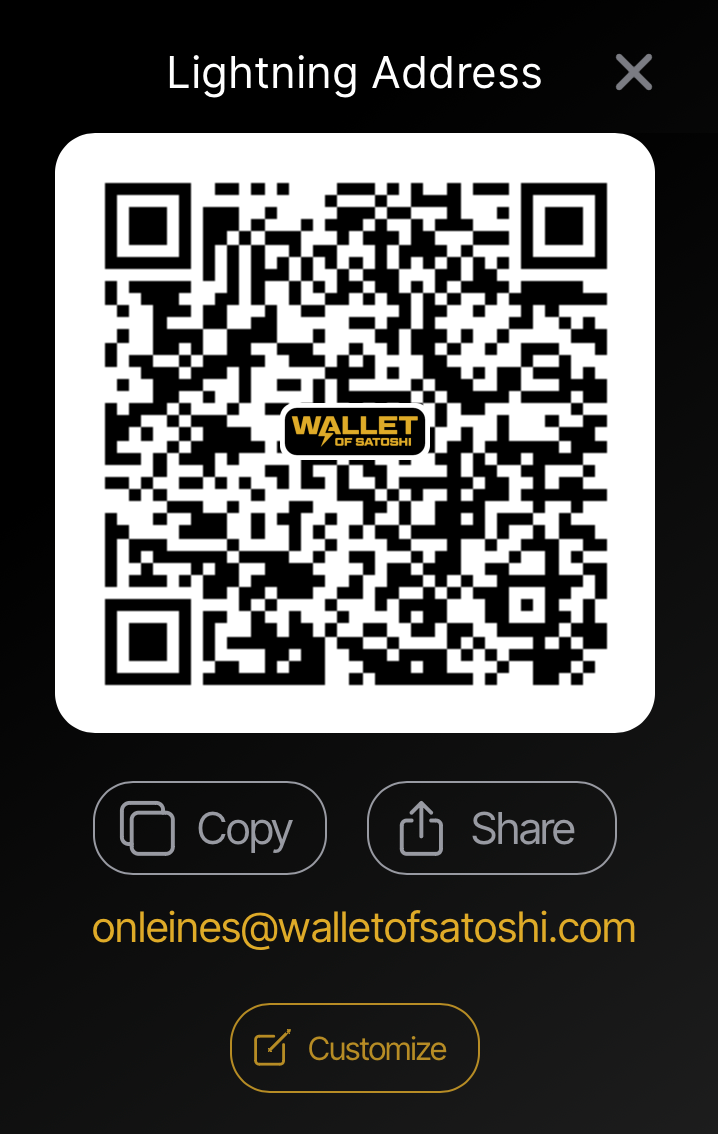 If you meet these requirements, then you are entitled to an individual Lightning address.
My Lightning address at Wallet of Satoshi is: onleines@walletofsatoshi.com
Lightning Wallet Provider with Lightning Address
The following table lists the most important Lightning Wallets with an indication of whether it is possible to send to a Lightning address (send) or whether a Lightning address is available for reception and what the corresponding Lightning address looks like.
Send to Lightning address
Receive at Lightning address
Send & own Lightning address
Send & own Lightning address
Send & own Lightning address
Send & own Lightning address
Send & own Lightning address
Send & own Lightning address
Send & own Lightning address
Send & own Lightning address
Send & own Lightning address
The Lightning Address
Further information about Lightning Address can also be found at: