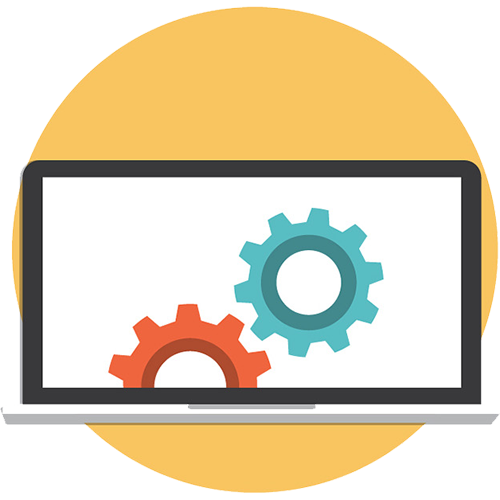 BTCPay Server Hosting – Hosting eines eigenen Bitcoin Payment Server
The BTCPay server must run on its own server and be available on the Internet at all times. BTCPay server hosting can be done on a self-hosted server, run by a hoster or shared on an existing server, as third-party hosting.
We briefly present the various options at a glance:
Own BTCPay Server Hosting
Setting up and running your own BTCPay server is the solution for technically experienced users and administrators.
Under the domain
https://install.btcpayserver.org/
there is a configuration wizard that helps to configure your own BTCPay server.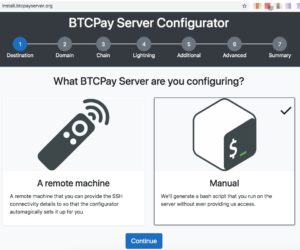 The configurator guides you step by step through the corresponding requirements and, as a conclusion, creates a list of commands which have to be executed on your own server in order to install the corresponding components.
Own node
If you are afraid of setting up and configuring your own server, you can purchase a pre-installed hardware node.
Here we are talking about servers the size of a cigar box, on which a large number of components and services are already preinstalled.
These boxes are essentially used for the owner to run their own Bitcoin Node, as well as a Lightning Node. In addition to the operation of a node, the complete blockchain and an Electrum server, a BTCPay server is also installed as an additional function.
For the sole operation of a BTCPay server, these functions are not all mandatory. As an operator of your own node, you help secure the entire Bitcoin network and it promotes independence and sovereignty.
The main providers are Umbrel, MyNode, Nodl and the Raspiblitz. Special instructions are available for the TCPay server on the Nodl and Raspiblitz.
BTCPay Server Hosting Provider
The professional BTCPay server hosting solution is recommended for:
Bitcoin payments
Lightning payments
Professional business use
For this solution it is recommended to run your own BTCPay server at a hoster.
One hoster that specializes in hosting BTCPay servers is Lunanode.
Here you can find detailed instructions on how to set up and configure a BTCPayServer at the hoster Lunanode.
BTCPay Third Party Hosting
The BTCPay server is multi-shop capable. This means that several stores and applications can be created and operated per user.
So-called BTCPay third-party hosters offer the possibility to set up your store on their servers.
You can find a list of third-party providers at BTCPay Third-Party Hosts
Using a BTCPay third party hoster is very affordable and an ideal starter solution.
Free BTCPay Store from Coincharge
Coincharge also offers a free demo BTCPay store at https://btcpay.coincharge.io.
The free demo BTCPay Store offers the possibility to get familiar with the BTCPay solution. You can try and experiment.
Demo access is available for testing purposes. It should not be used for business, as no guarantee or permanent availability is provided.
There is also no support or assistance provided.
This demo access is for testing purposes only.
Here you can share a BTCPay store on Coincharge's BTCPay server.
Summary
If you want to deal with the possibilities of the BTCPay server in depth, you will choose your own BTCPay server hosting. Either on its own server, as a node-in-the-box solution or with a hosting provider such as Lunanode.
For a professional merchant who wants to accept Bitcoin in their online store or retail store, the hosted BTCPay server hosting solution is recommended.
With all solutions, a stand-alone BTCPay server can be operated without any restrictions. All hosted solutions are suitable to receive Bitcoin and Lightning payments.
A third-party solution is suitable for accepting Bitcoin payments. Payments via Lightning cannot (yet) be received. Lightning payment processing requires a standalone BTCPay server.
Those who want to do without Lightning and exclusively receive Bitcoin payments can resort to the low-cost solution of a third-party hoster. If you are still a bit unsure which solution is the right one for you, you can play around and try it out on the free demo version.
For all professional merchants, an own hosted BTCPayServer is the right choice. We recommend to host a BTCPayServer for about €5,- per month at Lunanode.
How to set up the corresponding server, we explain here. Put on lunanode