Lightning payments at Nostr
How do Lightning payments work at Nostr? In this article, we will look at crypto payments on social media platforms. We show how Lightning payments are used on Nostr to donate or like a blog post as a ZAP.
For years, social media platforms have been experimenting with the possibility of users sending money to each other or offering premium services for a fee.
This is not feasible with the classic payment methods such as credit card or PayPal.
One reason this fails is that credit cards and PayPal are not suitable for micropayments due to their fee structure.
On the other hand, the recipient of a credit card or PayPal payment must conclude an acceptance contract.
This acceptance contract includes a legitimation check and makes a quick onboarding of users impossible.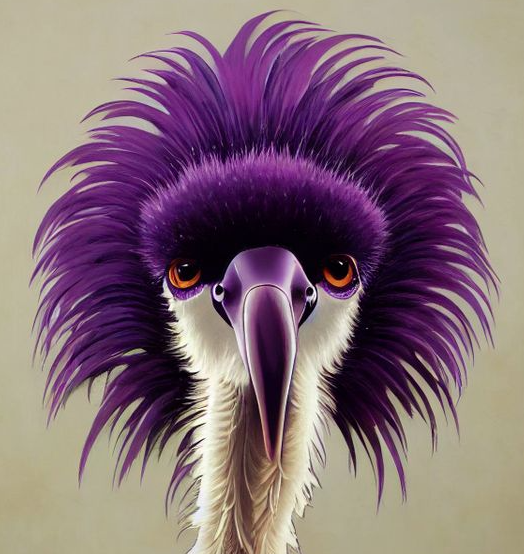 Cryptocurrencies offer a solution. With cryptocurrencies, users can simply open an account and deposit an amount. This cryptocurrency can be sent among users and premium services can also be paid for with it.
Libra Coin and Diem on Facebook
Many social media platforms have started creating their own coins, which are then used as payment on their own platform. The Facebook Coin called Libra Coin, later Diem, has attracted the most attention.
A coin that all users of Facebook, WhatsApp and Instagram could use for internal payments promised enormous potential. At the same time, it poses a threat to state money, and so government agencies issued regulations that made a private Facebook currency impossible.
But other social media platforms also experimented with their own coins.
Telegram Token TON
The messenger Telegram introduced the Telegram Token TON, but with modest success.
TON is not used on the platform. Instead, LightningTipBot's Lightning Wallets are very popular in the Bitcoin community.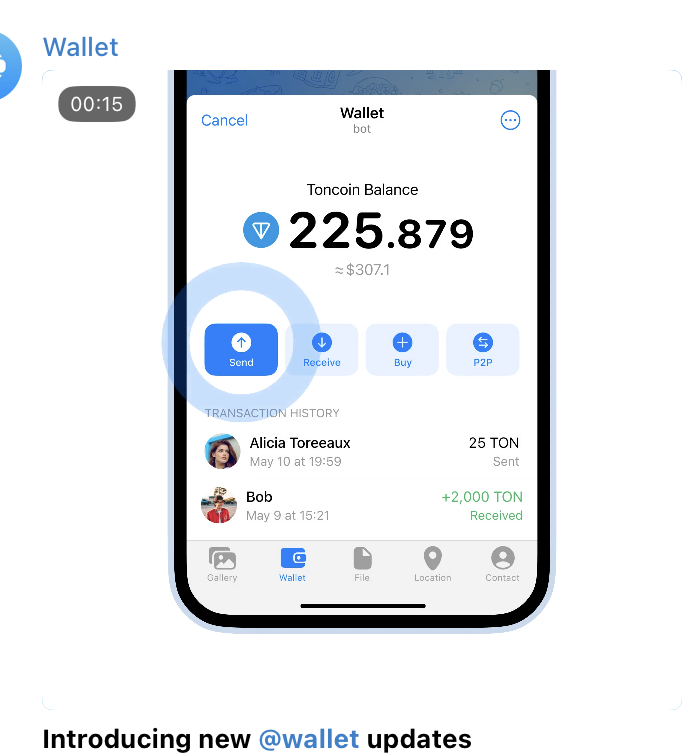 Telegram Lightning Wallet
Any Telegram user can set up a Lightning Wallet through Telegram, and users can make Lightning payments to each other or reward good posts with tips.
In the article "LightningTipBot" we explained how Telegram users can create their own Lightning Wallet. This Telegram Lightning Wallet can be used not only within Telegram, but everywhere where Lightning payments are accepted.
On Coinpages you can find an overview of all German-speaking merchants that accept Lightning payments.
Twitter Coin
Twitter is also apparently planning to introduce its own Twitter Coin. Twitter's new owner, Elon Musk, is depending on finding new revenue streams for Twitter. Elon Musk founded the PayPal payment service, so he has plenty of experience to add a payment service to Twitter.
Within Twitter, there are initial approaches to sending users a payment.
In the mobile view of some Twitter profiles, you can find a bill icon.
Behind it is a Bitcoin address to which a payment can be sent.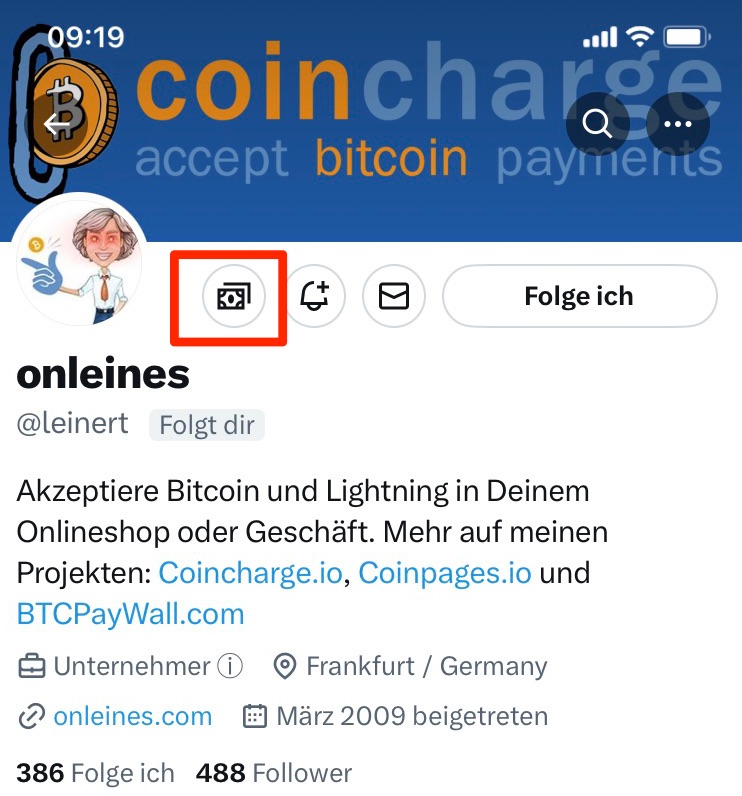 The ambition of the various social media platforms is to establish their own coin.
But can a coin that can only be used on one platform excite users?
Here, the so-called network effect plays an essential role. Users will only use a coin if it can be used in many places, which is limited with platform-owned coins.
What is Nostr?
An exemplary approach is Nostr.
Nostr stands for Notes and Other Stuff transmitted by Relays. Behind this is a decentralized network in which the user is the owner of his identity, his content and his data.
Nostr is not a platform like Twitter, TikTok or Facebook, but a protocol like the Internet or Lightning protocol.
To use Nostr, you don't need a name or an email address.
As with Bitcoin, the user has a public key, which is the username, and a private key, which is the password.
This key combination can be used for any application based on the Nostr protocol.
There are a variety of applications, similar to the well-known social media platforms, through which messages and digital content are sent and shared with users.
But not only messages and digital content can be exchanged via Nostr, but also money.
Since the Nostr protocol uses the same decentralized approach as Bitcoin, the Lightning protocol is the obvious solution.
Bitcoin is decentralized money and Nostr is decentralized social media.
Lightning payments at Nostr
To be able to use Nostr as a user, you need a Nostr client. These are now available as a web client, but also for Android (e.g. Amethyst) and iOS (e.g. Damus).
To send and receive Lightning payments via Nostr, you also need a Lightning Wallet such as Alby or BlueWallet.
An overview of the most important Lightning Wallets can be found in the article "Lightning Wallet".
With Current, the first Nostr client with integrated Lightning Wallet is already available for Android and iOS.
Lightning invoice at Nostr
In the first step, we will explain how to get a Lightning payment paid via Lightning Invoice through Nostr.
To do this, you create a normal Lightning Invoice in your Lightning Wallet and insert this Lightning Invoice as a message in your Nostr Client.
If you want this Lightning Invoice to be paid by a specific Nostr user, address this message to that Nostr user by putting the @ sign in front of the user's pub key.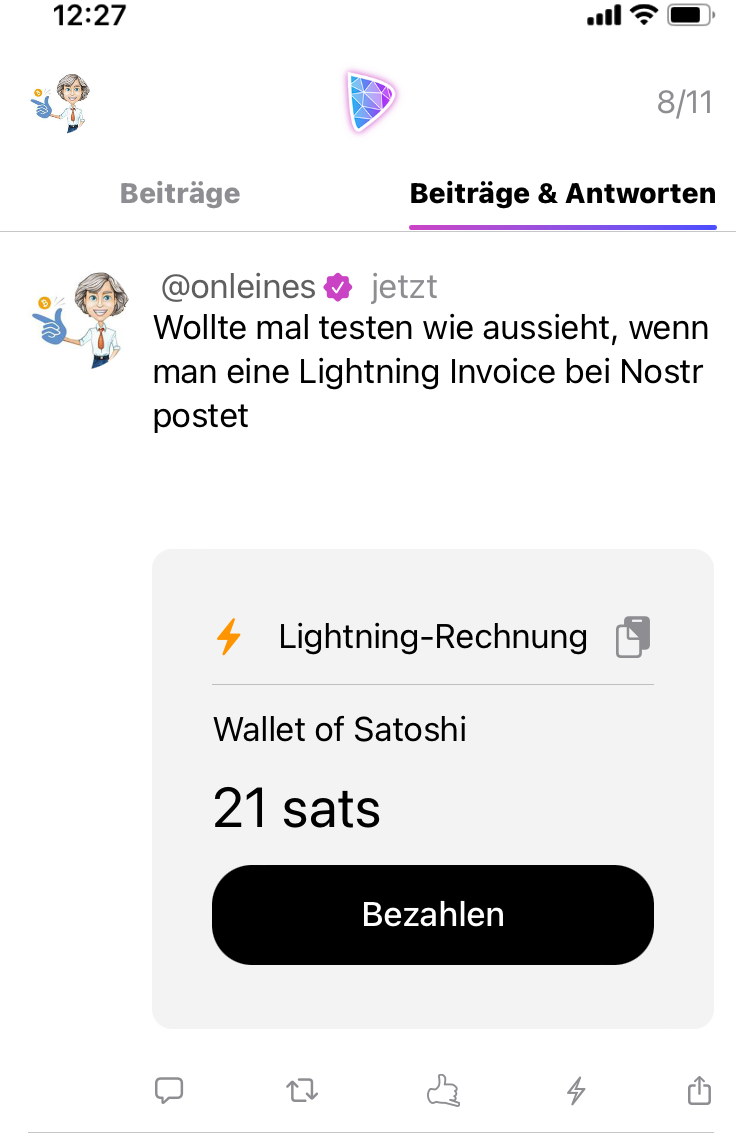 It is also possible to send the Lightning Invoice to all Nostr users and wait for a specific Nostr user to pay this Lightning Invoice. As shown in the adjacent image, the Lightning invoice is then displayed.
What is a Nostr Zaps?
On all social media platforms, users have the option to express their consent by clicking on a Like button. With Nostr, you can express your consent by making a Lightning Payment.
The payment of a donation is called ZAP at Nostr. The ZAP button is represented in the form of a lightning bolt and is located next to the Nostr user's profile and next to the Like button under each post.
Zap Button in Nostr Profile
For Nostr users who have a Lightning address stored in their profile, it will be displayed in the form of a Lightning flash. If a profile visitor clicks on the Lightning icon, a Lightning donation can be made.
In the Damus client, a selection box of the most popular Lightning Wallets then opens and you can choose from which Lightning Wallet you want to send a donation to the profile owner.
Under a blog post, you'll find a Zap button in addition to the familiar Like button on Nostr.
You can leave a Lightning donation for individual posts via this ZAP button. The sum of all donated sats is displayed below the post and signals the value of the individual post contribution. At the same time, the author of the article receives financial support.
This gives meaning back to the individual post and rewards users for posting quality content.
The author of the blog post opposite has received 7,300 sats so far.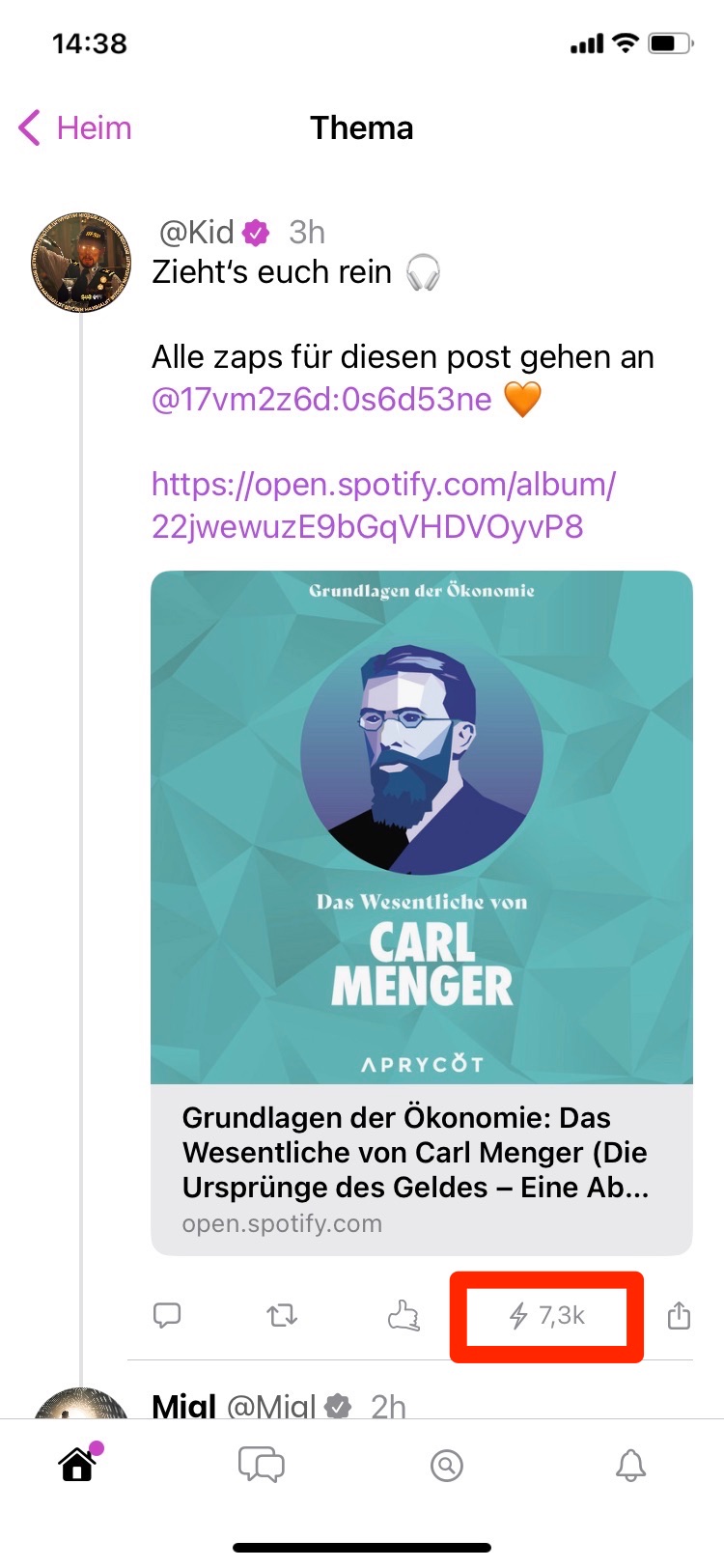 NIP-57 Lightning Wallet
In order to receive ZAP payments as a Nostr user, it is necessary to provide a Lightning address for which the Lightning Wallet supports NIP-57. More and more Lightning wallets that provide Lightning addresses are integrating the NIP-57 feature.
Currently (block time 778670) the following Lightning wallets support NIP-57:
Wallet of Satoshi
LightningTipBot
Current
Alby
Bitcoin Beach
Bitcoin Jungle
Stacker.news
Vida.Live
The example of Nostr shows how new applications can be created with Lightning Payments. The fact that micro and even nano payments are now possible with Lightning offers interesting functionalities for social media platforms.
Nostr is an innovative pioneer and already shows what is technically possible.
It is only a matter of time before other social media platforms integrate comparable functions. But will Twitter, Facebook and co. also rely on Bitcoin via the Lightning Network or opt for their own coin?
Are you on Nostr?
Then follow me on Nostr at:
npub1fdwm5pk3g9kxvfyqdxfma9qd6lydtdsjp0ggnk585ahzg0c7zspqqt78nl