The adult industry is known for being one of the first to use new innovative technologies on the Internet. Therefore, it is worth taking a look at this industry to see how services and applications are billed at Bitcoin erotic sites.
If you consider that according to international studies, about 30% of Internet traffic is generated by erotic content. Per month up to 450 million visitors visit erotic sites and up to 30% are women. Then the adult industry should be a turbo for Bitcoin in terms of user acceptance.
For the user, payment by Bitcoin on erotic sites offers some advantages:
When registering on erotic sites, only an email address must be provided
Transmission of sensitive bank or credit card data to an unknown provider is not required
Bitcoin payments are one-time payments and an unwanted subscription or unauthorized debits are not possible
As a user you remain completely anonymous to the erotic provider
No credit card statement or bank statement will reveal that you paid on a porn site.
Especially porn providers from the USA have started to offer Bitcoin erotica at an early stage.
One of the largest American erotic providers porn.com, has already introduced payment by Bitcoin for the premium service in January 2014.
Based on the experience gained, half a year after its introduction, Bitcoin payment was considered a great success.
Most Bitcoin payers came from the USA, England and Canada. This is not surprising in that Porn.com's offering is aimed particularly at an English-speaking audience.
Meanwhile, porn.com offers Bitcoin as well as other cryptocurrencies such as Wankcoin, Litecoin and Dogecoin.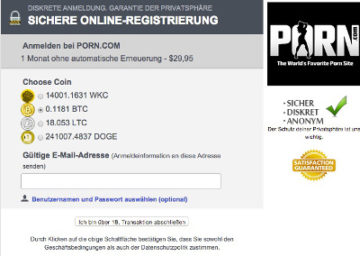 The end customer does not have to disclose any data about himself other than his email address. Membership runs for a fixed period of time and cannot be renewed automatically.
Also in January 2014, Naughty America has already added Bitcoin as a payment method.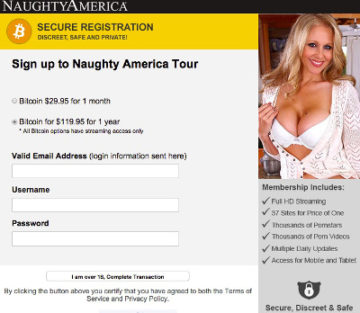 About 10% of sales were already made via Bitcoin after half a year. Customers paying by Bitcoin are 57.5% from North America and 10% from Europe.
Naughty America is joined by more than 30 other Bitcoin erotic sites, which have gradually introduced Bitcoin payments.
Naughty America CEO Andreas Hronopoulos is convinced of Bitcoin's success. The company is hoping for particular success in countries where payment methods such as credit cards are not as widespread, and points to the example of India in an interview with Coindesk.
The largest Internet erotic provider MindGeek (formerly Manwin) now also accept Bitcoin on their sites. One of the first Bitcoin erotic sites is "I know that Girl" and comes from the Mofos.com network within the MindGeek group.
MindGeek's far more popular sites like Pornhub, Youporn, Brazzers or Mydirtyhobby have Bitcoin integrated as well.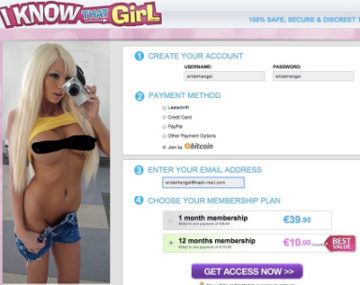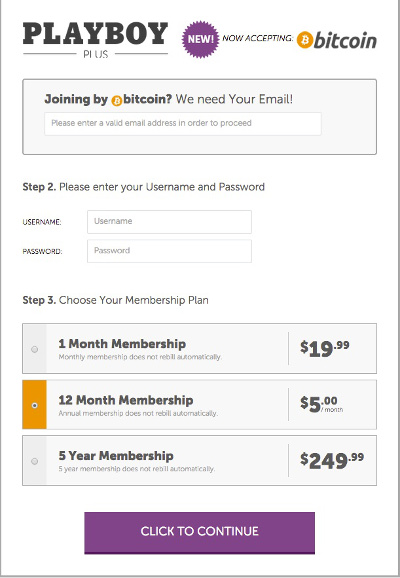 The erotic site of Playboy also offer Bitcoin payments for the Plus Playboy offer.
Adult website Pornhub has been accepting Bitcoin (BTC) and Litecoin (LTC) as payment methods since September 2020.
This means that Pornhub's 130+ million daily visitors can pay for premium subscriptions in the leading cryptocurrencies.
Pornhub has already been accepting cryptocurrencies such as Stablecoin Tether (USDT), Tron (TRX), Privacy coins Verge (XVG), and Horizen (ZEN), as well as PumaPay (PMA) tokens since 2018.
One is not very convinced with the turnovers when users pay. Which was not to be expected with the coins offered so far. Those who forgo Bitcoin and rely on niche coins alone cannot expect significant sales.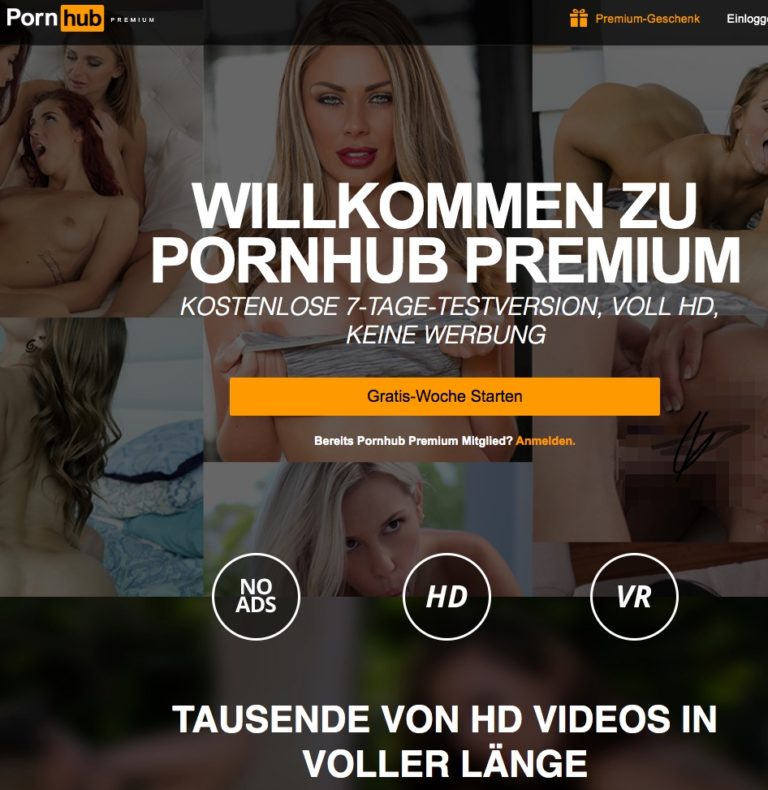 The fact that more and more people have been relying on Bitcoin in recent times is related to the fact that PayPal no longer allows payouts to performers. When paying out to performers, cryptocurrencies are becoming increasingly popular. Already more than 10% of Pornhub models prefer crypto payouts.
While the leading American adult entertainment providers are already very heavily involved in Bitcoin, this trend is only now being observed with a delay among European providers.
Why are there so few Bitcoin erotic sites from the European providers? But why is the European porn industry so hesitant to adopt Bitcoin?
The advantages for the acceptance of Bitcoin for Bitcoin erotic content are obvious!
No risk of chargeback. 100% payment guarantee
Payment of very small amounts (micropayment) possible
Bitcoin payments are cheaper than credit card or any other payment method
Suitable for payments on computer, tablet and smartphone
Available worldwide and perfect for reaching new customer groups
Innovative marketing story for new customers
Any content can be billed
A major disadvantage with Bitcoin is the lack of recurring payments (subscription payments) for erotic memberships.
Bitcoin is a so-called "push payment" variant. This means that the customer must actively initiate a payment. This is comparable to a SEPA Credit Transfer or the online transfer systems of Sofortüberweisung, Giropay, ideal or eps.
As a push payment, the customer must actively send the bitcoin to the erotic provider. The provider itself cannot collect the payments from the debtor's bank account or credit card account ("pull payment").
Recurring debits is not possible with "Push Payment" payments. This disadvantage is made up for by the fact that no chargeback is possible either.
No end customer can claim after the fact that it did not make the payments or did not want to.
Membership Sites & Sex Dating Sites
The business models of porn providers are predominantly geared towards the end customer entering into a subscription obligation and paying regularly. Ideally, the subscription is forgotten by the customer and simply continues to run.
Sex sites that focus on memberships only have the option of offering time-limited packages when it comes to Bitcoin payments. These packages may vary in price depending on the term.
Providers of dating or membership sites can also draw here on experiences that have been made with online bank transfers (Sofort, Giropay, ideal etc).
Otherwise, the above-mentioned examples of American erotic sites show how these models can be implemented accordingly.
Pornhub Premium offers the possibility of a discounted annual subscription in addition to a monthly subscription. Here, at the latest, the payment method via Bitcoin is an interesting alternative.
Bitcoin erotic at WebcamPages
For cam portals, recurring debit plays a lesser role. Here, the focus is concentrated on secure payment. The broadcasters would like to get the money for the service from the provider of the site. The sender does not care whether the end customer has really fulfilled his payment obligation.
With cam portals, the user buys points or coins as a kind of substitute currency. This prepaid credit is used to charge for services based on minutes viewed or payments for specific services.
The visitor of a cam site would like to use the offered services immediately. One is not willing to go through a lengthy payment process or even wait a few banking days until the payments are credited to the operator.
Here, the purchase of points and coins via Bitcoin is an option. Payments are authorized after just a few seconds and are 100% secure and guaranteed. The user can immediately start using the offered services.
The purchase of credits, points or virtual credit is to be realized through a normal purchase process. Credit packages can be paid with Bitcoin. For this purpose, a Bitcoin payment button must be deposited on the page.
In the area of webcam portals, the so-called cam girls present themselves on the corresponding portals. For the cam girls, thanks to Bitcoin, there is also the possibility of receiving direct donations from fans and followers. Like YouTubers, influencers and bloggers, cam girls can also receive Bitcoin directly via a Bitcoin Donation Button.
Thus, cam girls can make themselves more independent from the web cam portals.
Information on how to get some Satoshi as a donation as a cam girl, YouTuber or Influencer is explained in the post: "Get some Satoshi with a Bitcoin Donate Button".
Bitcoin erotic via mobile payment
The mobile payment market for adult content is particularly successful in Europe. The end customer can conveniently pay for the content offered via his telephone bill. As a rule, subscription contracts are concluded, which are debited weekly in the amount of a few euros.
The business model is designed for subscription contracts with automatic debiting ("pull payment") of small amounts and as a very secure payment method without high chargeback rates.
The main advantage of mobile payment is that the end customer does not have to undergo a complicated registration process. The customer identifies himself via his cell phone number and the amount is automatically debited from his cell phone provider after one click.
A disadvantage for the providers are the different conditions of the telecom providers in the respective countries.
Also, not every type of content may be offered. Most of the time, only FSK16 content is allowed in terms of the content offered.
In some countries, the billing of erotic content via telephone providers is now even completely prohibited.
Bitcoin payments can be made very easily via a smartphone. Every Bitcoin owner has a Bitcoin app on their smartphone through which payments can be made.
A simple click on the QR code during the payment process leads to an automatic opening of the deposited Bitcoin app. The user has to release the payment with his four-digit PIN and can immediately view the offered content.
Similar to the link to the phone provider, the Bitcoin user does not have to enter any further data and can pay for the content on the smartphone just as easily and quickly.
There are no restrictions regarding the content. All legally permitted content can be offered worldwide.
For existing erotic mobile sites, there is the possibility that the sites are marketed around the world and paid via Bitcoin app.
Bitcoin Pay-Out Service
The payment to affiliate commissions or the remuneration of models, content suppliers or webcam performers can also be implemented via Bitcoin. When PayPal stopped allowing payouts to performers on Pornhub, the problem became apparent. Meanwhile, over 10% of performers receive compensation in the form of Bitcoin and other cryptocurrencies.
Accordingly, the payment of commissions and compensation in the form of bitcoin will become more important. How such a withdrawal service works can be read in the article Bitcoin withdrawal service.
Outlook for Bitcoin in the erotic industry
Through Bitcoin, new business models will develop. Special advantages will arise from the possibilities of micropayment(Lightning), which enables the individual marketing of images and videos for a few Satoshi.
For membership sites and cam portals, Bitcoin will take the place of another alternative payment method.
Especially with regard to the growing importance of the smartphone when viewing erotic content, payment via Bitcoin app will play out its enormous advantages.
In the field of mobile erotic sites, it suggests that there will be pure Bitcoin erotic mobile sites. Because no user likes to type in their cumbersome credit card data on a small smartphone window.
One click on the QR code and automatic payment via Bitcoin app is possible at any time, even on a subway ride.
If there is one industry that has managed to keep responding to new circumstances and opportunities, it is the adult industry on the Internet.
It will be exciting to see what business models the adult industry comes up with based on Bitcoin.
The advantages of Bitcoin payments for providers and customers on erotic sites:
Advantages for erotic users:
When registering on erotic sites, only an email address must be provided
Transmission of sensitive bank or credit card data to an unknown provider is not required
Bitcoin payments are one-time payments and an unwanted subscription or unauthorized debits are not possible
As a user you remain completely anonymous to the erotic provider
No credit card statement or bank statement will reveal that you paid on a porn site.
Advantages for erotic suppliers
No risk of chargeback.
100% payment guarantee
Payment of very small amounts (micropayment) possible
Bitcoin payments are cheaper than credit card or any other payment method
Suitable for payments on computer, tablet and smartphone
Available worldwide and perfect for reaching new customer groups
Innovative marketing story for new customers
Any content can be billed